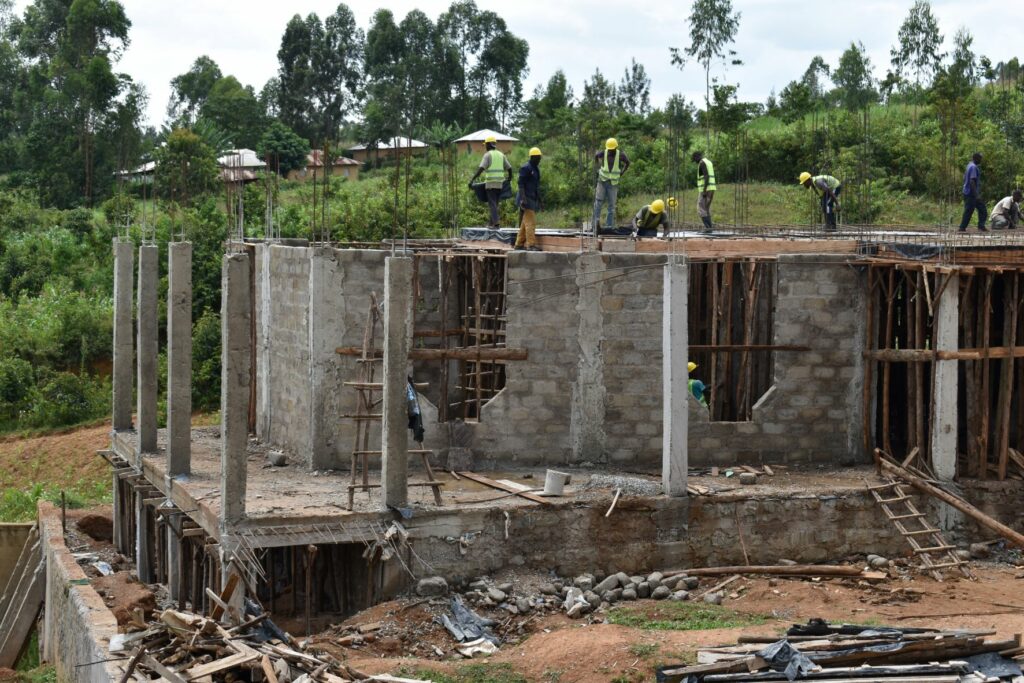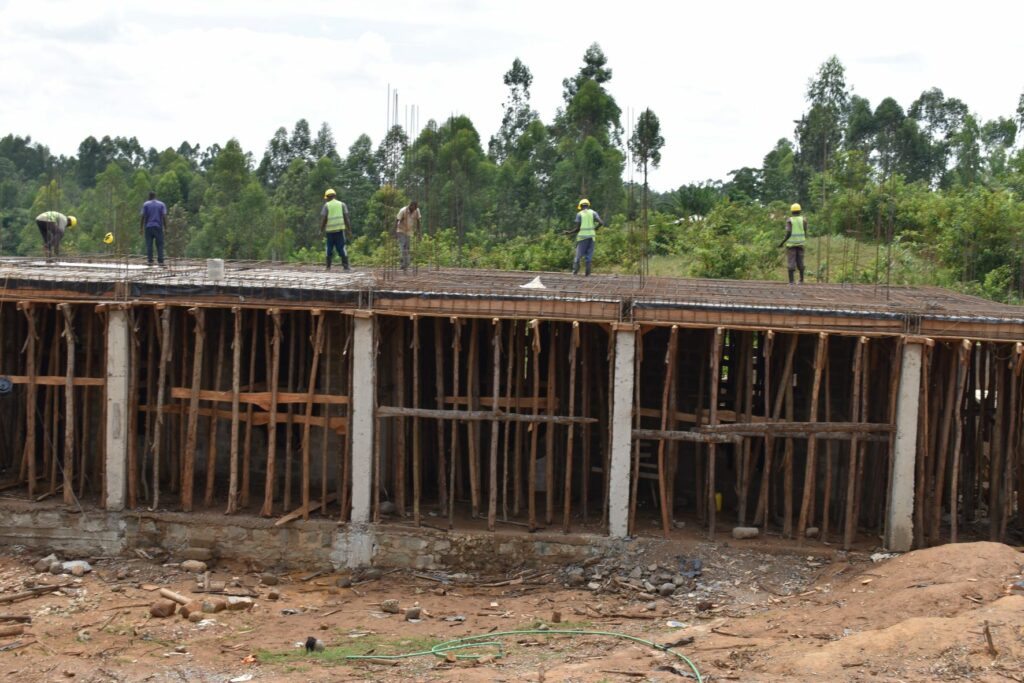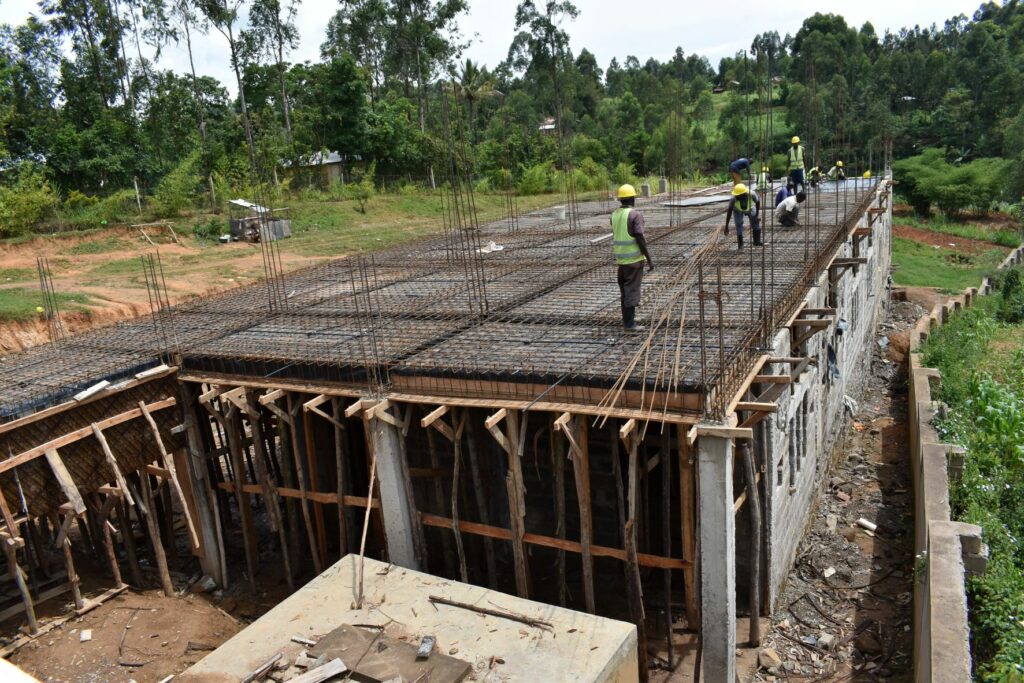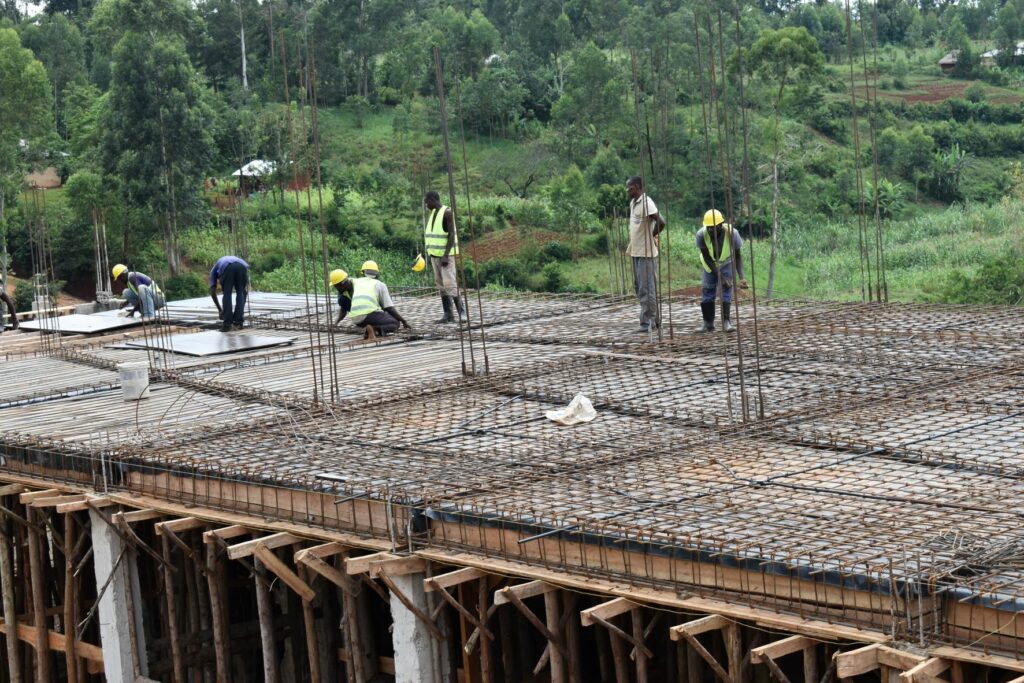 We have been constructing the new two-story classroom/laboratory structure earnestly and rapidly. The vast majority of this was completed in the last month-since the first week of October. We spent August and early September preparing the ground and the initial foundational work. About 25 young men have been employed on a daily basis and the work for them is much needed as work in this area is very hard to come by. By investing in this community with school construction, it is allowing people to put their skills to work, advance their talents and obtain consistent income. As can be seen in the above photos, many materials have been needed and purchased as well, including sand, cement, gravel, rebar, timber, and much more. While the global economy has been beset with some challenges of late, the present circumstances have led to a strong dollar which is working in our favor. The strong dollar is allowing contributions to Kijana for this project and other needed expenses to stretch far. Once completed, the combination classroom/laboratory building will house three classrooms, a science laboratory and another multi-purpose laboratory and serve as the initial fulcrum of our Junior Secondary School. It was designed in consultation with our key architectural friends, Harpreet Dhaliwal, of BKSK Architects (New York City) and Christopher Dameron, of Dameron Architecture (New York City). Jeremiah Awori, of Vihiga County, is the lead architect and contractor on the ground and Ebby Shiroya, our multi-talented and super energetic all-around school development leader is the project manager. Our local team is working tirelessly to make this a reality for the students. Thank you to all who have dug deep and contributed to make this new and most valuable capital resource a reality. You have boosted so many lives in meaningful ways. We need continued and immediate support to keep the work progressing.
Kijana Global Innovation School students had the opportunity to go swimming recently at a local swimming pool. This was part of the new educational curriculum in the nation which emphasizes hands-on learning and competency in active engaged skill-based learning. Our students clearly enjoyed the experience and we anticipate bringing them back in the future. We also aim to begin a competitive swimming program in the future. As we all know, swimming is a vital life skill and it is also a common sport in more advanced Kenyan schools. We continue to seek and implement ways to expose our students to more varied skill development opportunities, which creates a more holistic learning environment.
Photo descriptions: Geoffrey Omusula playing a descant recorder, inspired by Andre' Madison, (feature photo), Samantha and Kijana Care, Share and Explore team member, Prideluck Ubagah, (top left), Mildred Acosta working with students (top right), Santino, Mildred, and Andre' (bottom left), Andre' introducing the recorder to students (bottom right).
A big asante sana (thank you) to five special volunteers: Samantha Koches, Jessica Sun, Mildred Acosta, and her son, Santino, and Andre' Madison. Each volunteer gave of their time and talents this summer to enrich the lives of Global Innovation students, faculty, staff and the surrounding local communities Kijana serves. In return, they gained valuable cross-cultural skills and awareness which has enriched their lives and which will lift others. All of the partnerships demonstrated Kijana's commitment to empowering youth, reshaping communities, and transforming lives.
Samantha Koches and Jessica Sun visited the Global Innovation School in May. Samantha is a former student of Kijana President and Executive Director, Jim Cummings, at the Benjamin School, in North Palm Beach, Florida. She recently started her own non-profit, Nourish All, a global nonprofit organization, based in Hawaii, that is dedicated to nourishing communities in need. 
Samantha led the design and implementation efforts to expand the school's existing garden and to promote permaculture. In addition, she organized an exploratory visit to Josephat Barasa's (JB) permaculture farm in western Kenya for a group of students from our Global Innovation School and a local public school,  Buchenya primary school. Jessica Sun, a Nourish All Board Member, and attorney assisted Samantha periodically, by collaborating with Kijana team members and aiding in the completion of various projects. 
Samantha's work has inspired Kijana to make the school into a lush food forest, growing multitudes of fruits and vegetables creating a syntropic micro-paradise, as well as an innovative learning center. She is continuing to collaborate with local people in the community in improving Buchenya primary school's gardens, among other endeavors.
Mildred Acosta, a primary school teacher at Rosarian Academy in West Palm Beach and her son, Santino visited the Global Innovation School in July. Mildred teamed up with teachers, primarily first grade teacher, Mercy Amoke. Mildred and Santino developed, with teacher Mercy, a hands-on learning program centered around the Dr. Seuss classic, The Lorax. The students then performed a little skit at our small celebratory event, to recognize our collaborative success in growing and planting over 500,000 trees with over 30 other institutions in western Kenya, Kisumu, and Nairobi. Mildred learned much from teacher Mercy. One fun thing teacher Mercy shared and Mildred will incorporate in her teaching is a fun way for students to celebrate or recognize someone's good work: by giving them a fictitious soda.  See the "take the soda" video. 
Andre' Madison is a current Kijana intern and an upcoming senior at Lawrence University, in Appleton, WI. He visited the Global Innovation School for 10 days in July. Andre' is helping to shape a music program at the school and has also developed a preliminary technology plan which will be implemented in stages, in collaboration with the school leadership teams in Kenya and USA. Andre' hopes to return next summer with friends to volunteer for a more extended period of time. In a strategy session, Andre' told Kijana President Jim Cummings about descant recorders, as a good way to introduce music skills. Cummings carried over about 30 recorders and Andre' brought over with him several more descant recorders, to introduce beginning musical skills to the students. He worked with students in teaching beginning recorder skills. Andre's enthusiastic teaching and sharing has led to more musical learning opportunities, including having Jennifer Sanna (Atisanna) visit the school and teach the nyatiti. Andre's also aims to introduce the nyatiti to his fellow music community at Lawrence University. 
American Biochemist and cancer researcher Helen Dyer once said, "Volunteerism is the voice of the people put into action.These actions shape and mold the present into a future of which we can all be proud."  The partnerships formed and the substantial voices of the above five special volunteers will have a lasting impact to those they have served. Kijana is proud to have hosted Samantha, Jessica, Mildred, Santino and Andre' this summer and we thank them for partnering with us to help Kijana live up to its mission of "promoting and cultivating youth empowerment through educational development, cross-cultural dialogue, and sustainable and environmentally friendly economic growth, among under-served Kenyan school communities and American schools."
Enrollment at the Global Innovation School continues to grow. As of mid-August, we have 157 students on campus. Transportation to-and-from the school is essential to the continued success of the school. Providing safe and reliable transportation to our Kijana students living in surrounding communities is of primary concern.
Consequently, we purchased a 47-seat bus, which was delivered and added to our fleet of transportation vehicles at the end of July. Kijana acquired our first bus (33 seat) last year (2021) and a van in 2020. The new bus will help us start increasing enrollment even more in the next several weeks.
Upon arrival of the bus, students and community members celebrated excitedly. They are proud of the buses the school has acquired. The evening that the bus arrived, Kijana President, Jim Cummings was at the gate and a student came by with his grandmother. She said, "he said I had to see the new bus."
The bus will not only allow us to reach more communities, expanding our student body, but will allow students and teachers new opportunities for field trips, sporting events, musical and drama competitions and more. In fact, on Saturday August 20, students used the bus for the subcounty musical competition. Seven Kijana school entries (individual and team) will move to the county competitions next week.
We are grateful to the major donors who made the bus possible. It is a major asset in advancing and growing our school community. We are also grateful to our school Director, Ebby Shiroya, who worked tirelessly to communicate with the bus making company to ensure the bus production was on track and delivered, registered and insured properly, despite many global supply chain issues.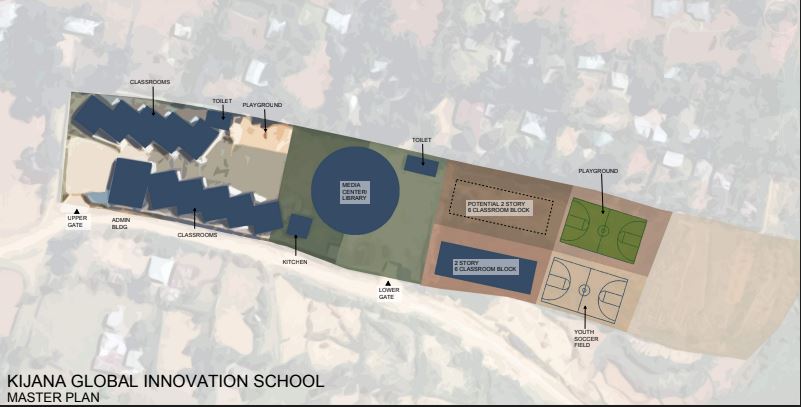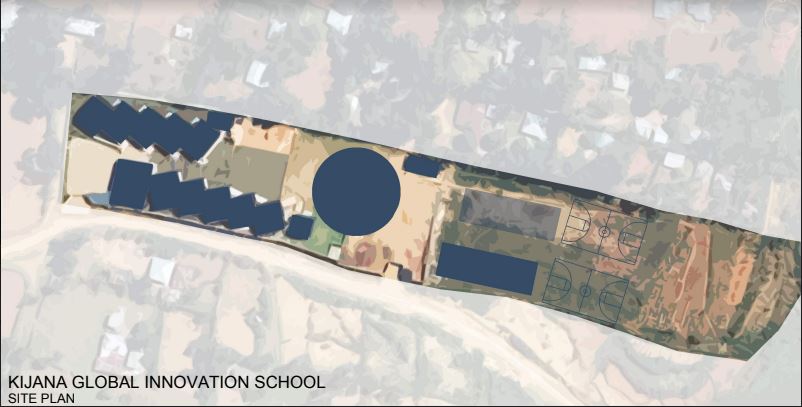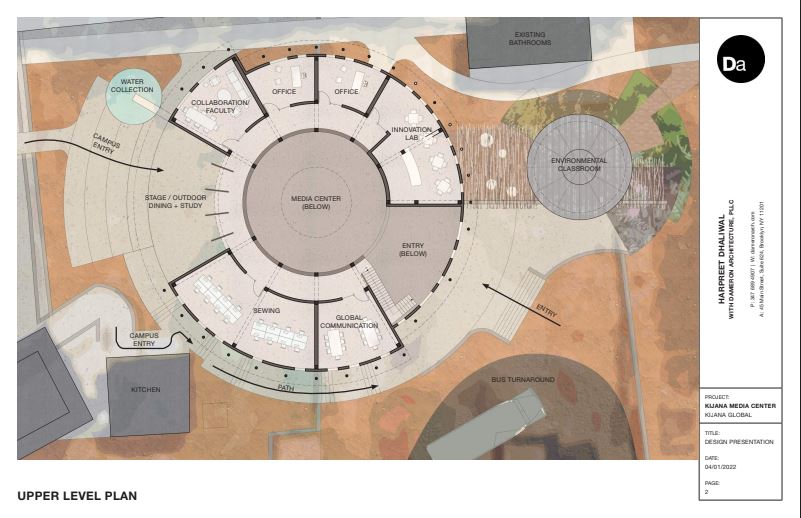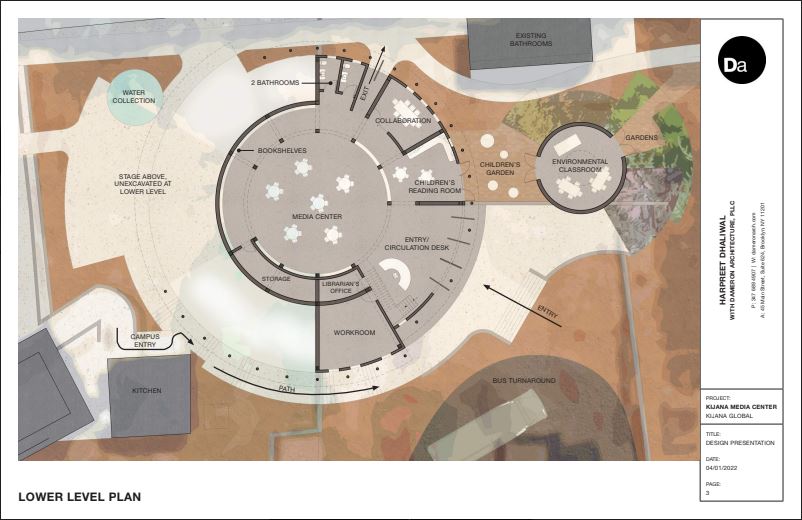 New York architects, Harpreet Dhaliwal and Christopher Dameron recently visited our Kijana Global Innovation School and Kenya with their family to continue the collaboration process that has been in development for a year. In the above photo, the two are seen working with our local architect, Jeremiah Awori, in library design development. Also visible are the most recent renderings based upon the time spent in Kenya on the site visit and with Mr. Awori. The library/media center will be an extraordinarily unique structure for the region and beyond.
The collaboration continues, however. Harpreet Dhaliwal and Christopher Dameron are back in New York and Jeremiah Awori is in Kenya collaborating through global technology. The larger library development team continues to work as well. We are planning future fundraising events and aim to break ground in September of this year on the amazing collaborative building which will change lives long into the future. 
The Dhaliwal/Dameron architectural team is providing their time and services pro-bono. It is estimated that the value of their time and skills and advice over the time of the project from start to finish will be $250,000. Your money will be well-spent as it will go toward construction and development and furnishing and staffing of the library. Relationship building is paying dividends.
Help us build stronger global relationships for decades.
Please give generously to the campaign by clicking on the following link: 
https://givebutter.com/Kijana_Library_Campaign
While donating, please consider a recurring donation.  It is a great way to provide continuous resources to sustain this investment in our future. 
Thank you!
Kijana views the several week break from classes as a valuable time for experiential learning. Grades 4,5,6 and 7 students took part in three significant exploratory excursions in different regions of the country from the beginning of March through April 25th. Students and teachers visited and explored Rusinga Island, Kakamega Forest, Kembu Camp and the Nakuru region, Nairobi and the Masai Mara. The exploratory educational ventures have been made possible by a generous grant from the Wheaton Franciscan Sisters, of Wheaton, Ill. We have designed and are expanding and fine-tuning our environmental education program, which has been named "Care, Share and Explore."  It is based upon the overarching premise of "Care of God's Creation, which is the theme underlying the grant.   
At Rusinga Island, students visited and stayed at the Wayando Beach Eco-lodge, explored permaculture activities and tree planting programs, as well as visited Ruma National Park. At Kakamega Forest, students camped for two nights and hiked in the forest and learned of the importance of the forest to the regional eco-system. While visiting Kembu Camp, they learned about milk cows, making butter, knitting, and participated in archery and team building activities. Our young explorers also had the chance to meet and learn from the "Wildlife Warriors" of Kenya, an organization dedicated to protecting wildlife. The Masai Mara was a major excursion as most of our students have rarely left their local community. Upon return, students will participate in reflection activities and write about and express the experiences artistically. It was a powerful experience of their young lives. 
April and May of this year mark an important transitional time for the Kijana Global Innovation School. The 2021 school year (altered calendar due to Covid-19) ended in early March and students have had a six week break before the 2022 school year begins on April 25th. On March 4th, we held our second pre-primary (kindergarten) graduation. Twenty-seven students graduated, moving on to first grade. It was a joyous occasion filled with happy parents and community members. Additionally, we distributed tree seedlings to all students at the school, family members and additional community members. The seedlings were "home grown" at the school as part of our 500,000 tree campaign, in which we grew over 500,000 trees in a 5 month period. This endeavor will increase the local and regional tree canopy significantly over time, improving the resource base in the region for improved sustainability. It will also encourage others to plant trees as we work collaboratively to build a greener future.
We were fortunate to host in Kenya Harpreet Dhaliwal and Chris Dameron and family. The two are the lead architectural designers in our recently formed international architectural team, designing the future library/media center and amphitheater at our Kijana Global Innovation School. After visiting the site and planning with our key local architect, Jeremiah Awori, a larger team explored Kenya together to expand on our global connections, strategize and develop our organizational bonds, while introducing the Dhaliwal/Dameron family to the larger Kenya. We travelled to Rusinga and Mfangano Islands in Lake Victoria and to the Masai Mara. The first stop was a wonderful eco-lodge, Wayando Beach Eco-lodge, on Rusinga Island. The long amazing journey to Wayando Beach Eco Lodge took about 6 hours. The team was led by Kijana Educational Empowerment Initiative's president, James Cummings. Other team members who went on the trip included: Jeremiah Awori (Kijana's Chief Architect) and his family, Lawrence Inonda (KIjana Photographer), Linda Shiroya (Care, Share and Explore Explore-Program Coordinator-Kisumu) and Global Innovation School students; Peter, Wycliffe, Martha and Stacy. The Special guests, Harpreet Dhaliwal, Chris Dameron and their two children found a good amount of time during the journey to collaborate with Jeremiah Awori. Consequently, we have a well-bonded team emergent to develop and build a very creative modern library/media center and amphitheater. As can bee seen in the photos, Kenya is a beautiful country and the Kenyan people have preserved habitat the for wildlife, which we share the planet with. We welcome you to Kenya to explore, discover and innovate with Kijana. Human society has many challenges ahead of us. We need all the creative energy and spirited minds and hearts to build a better world in which we share with humans and wildlife.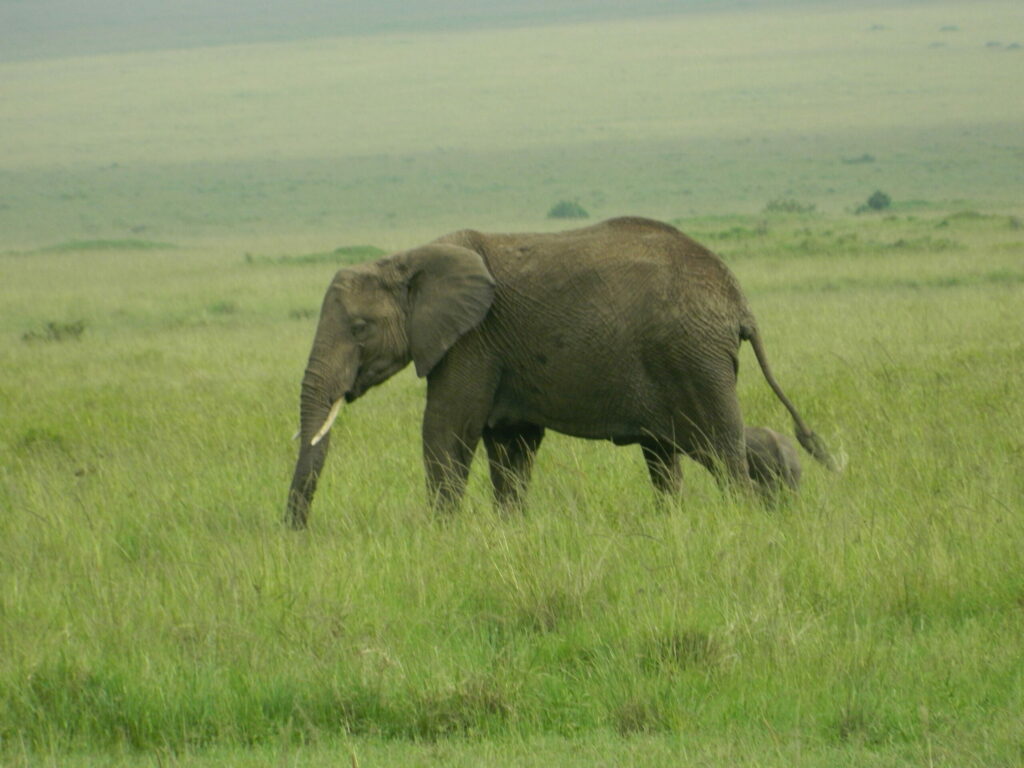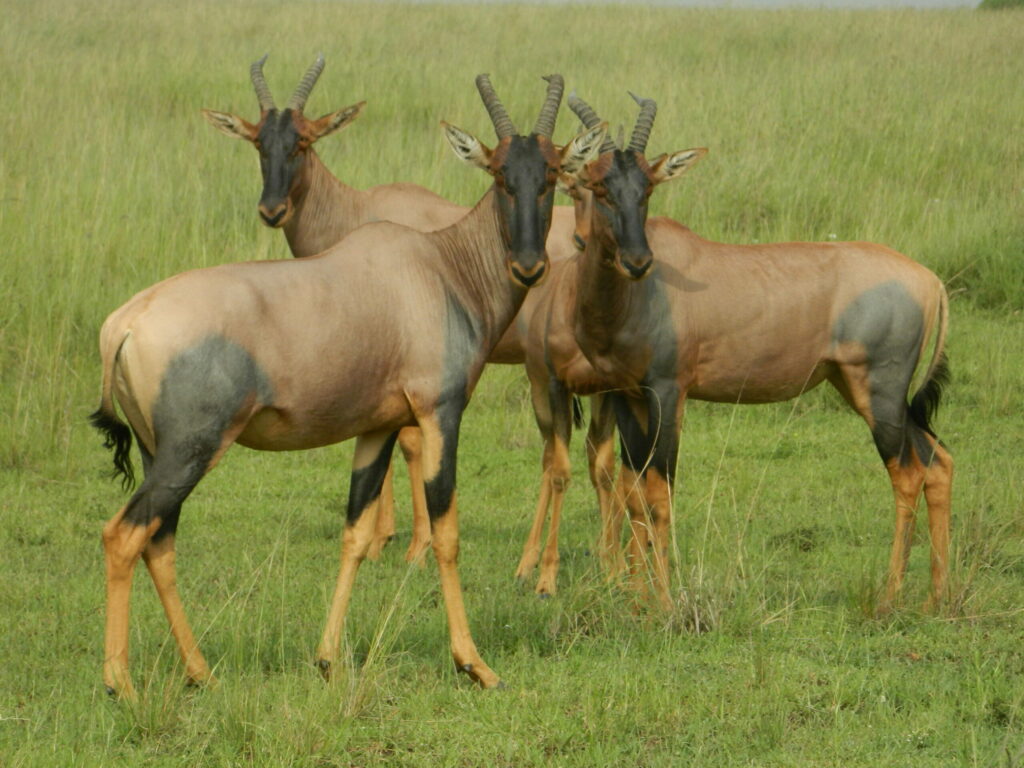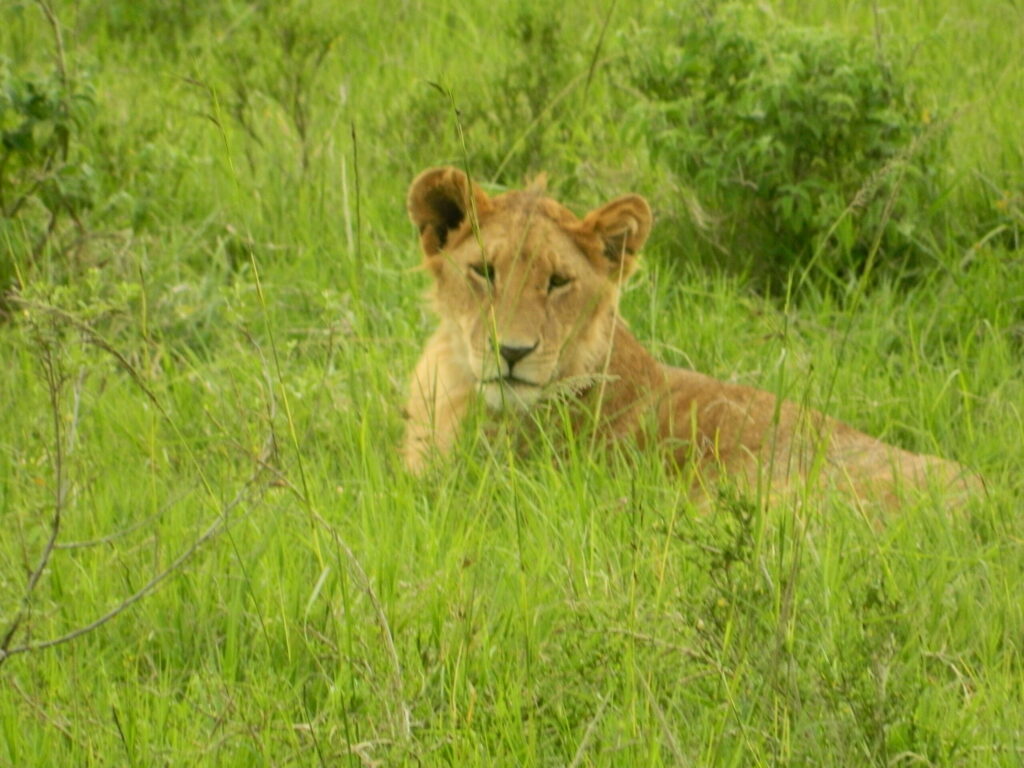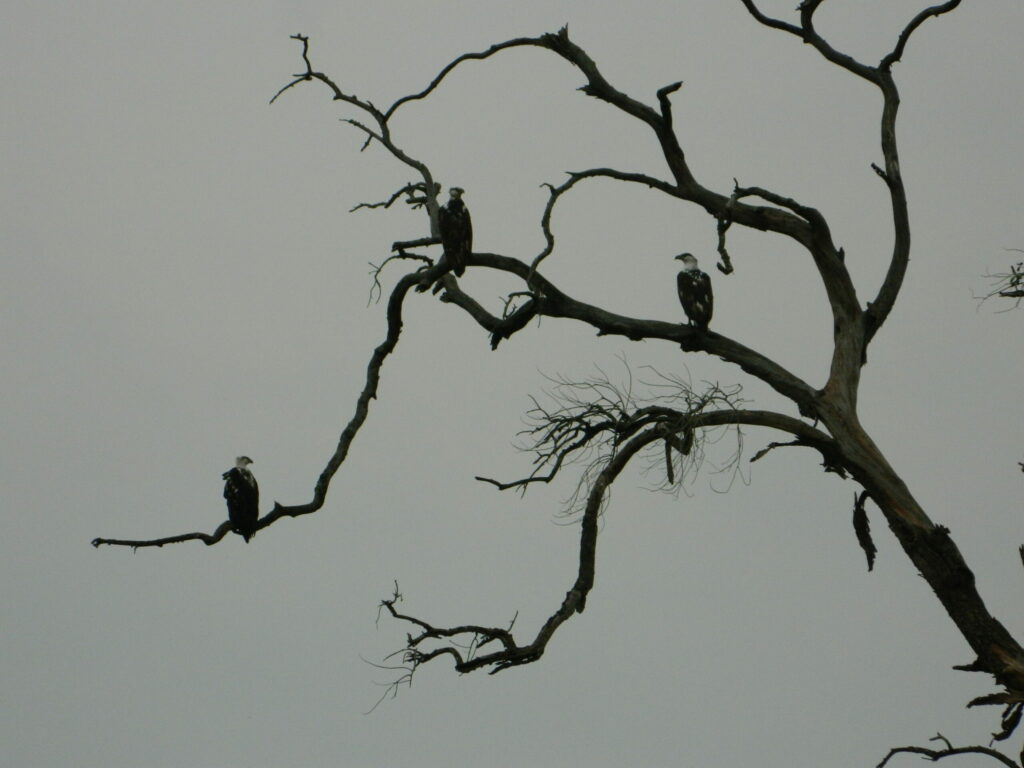 Wayando Eco Lodge is a great haven in a quiet paradise by the shores of Lake Victoria. The resort setting is amazing and environmentally friendly. They practice permaculture and organic gardening. While there, we were served delectable and tantalizing African cuisine. We really enjoyed those meals. As our team was enjoying the view of Lake Victoria, kids on the other side were enjoying their swinging game which made them happy. One night at Wayando Eco Lodge made us yearn for more days to continue enjoying the view and services of the place. Eco lodge gave our visitors from the United States a unique experience away from home where they were using decomposit toilets which are eco-friendly. Some of the team members who had never had that experience of using a bucket and covering it with saw dust were surprised in the beginning, but they eventually got used to it. Martha, Stacy and Global Innovation School teacher Malack spent their night at the tent which was a phenomenal experience for them. Kijana teams were impressed with the idea of Wayando Eco Lodge promoting ecological alternatives in buildings, permaculture and organic farming. Wayando Eco Lodge is the best destination to spend a vacation with family.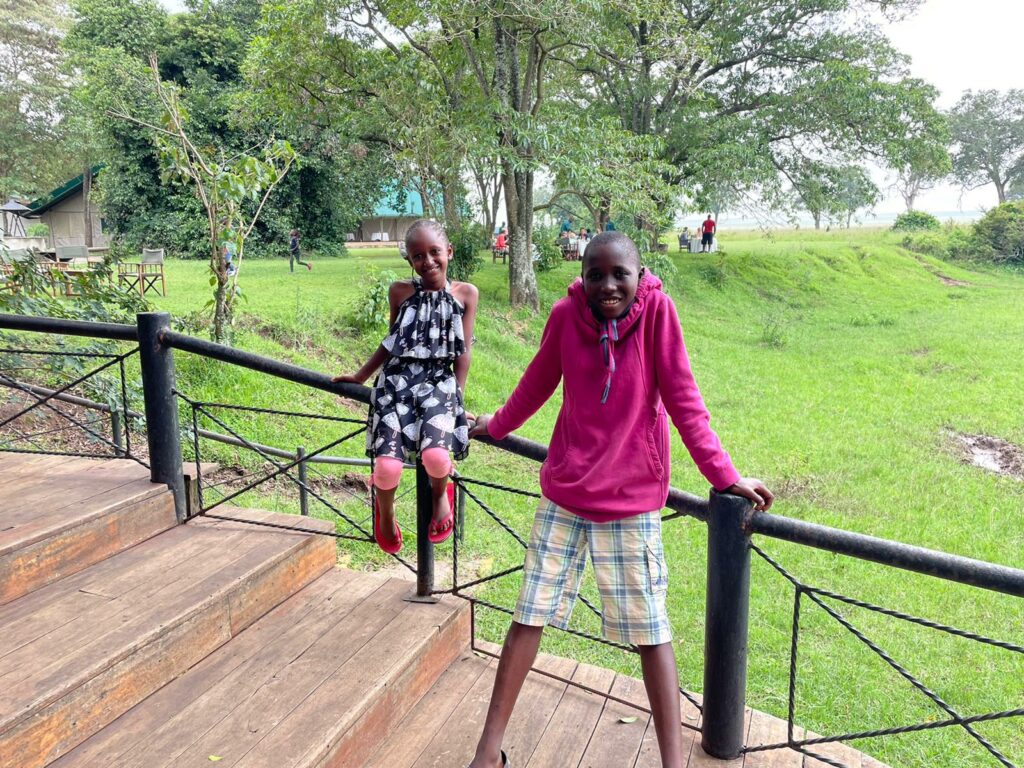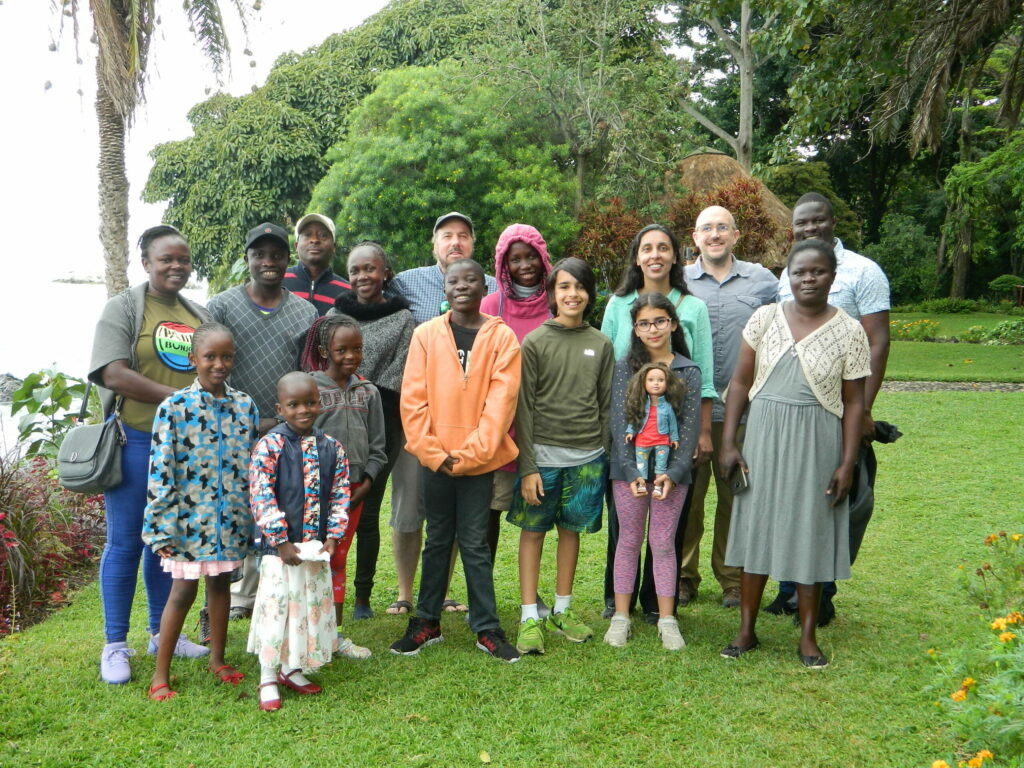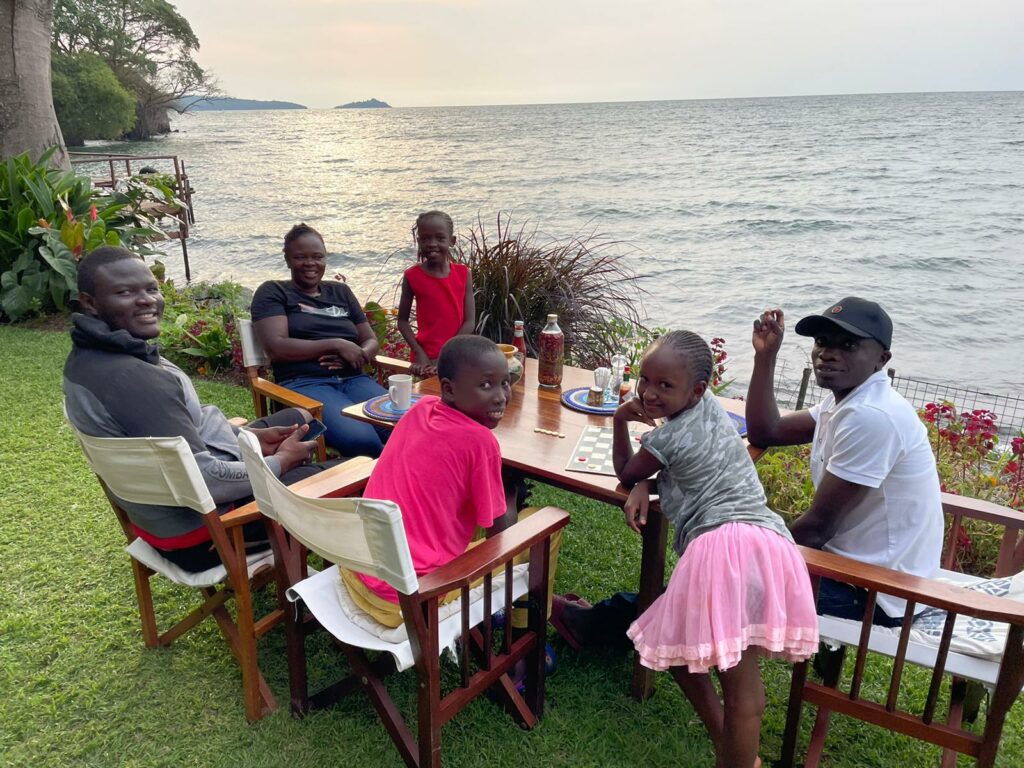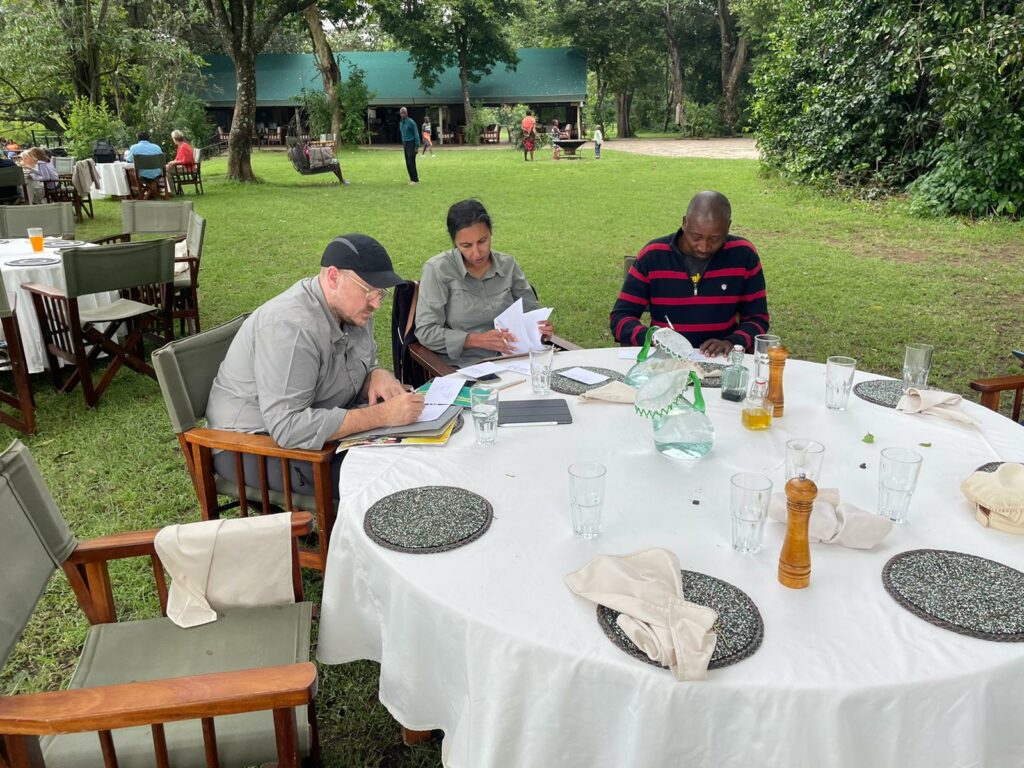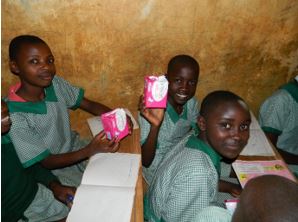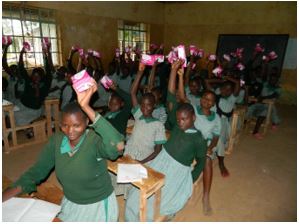 Every October 11th, world organizations come together to celebrate the girl child with the aim of raising attention to their needs and promote their empowerment. Kijana joined these organizations by celebrating at Emukangu Primary School in Western Kenya. The 2021 theme was "Digital Generation, Our Generation".
Kijana commemorated the day by having a series of events. One included a session with 104 students from Grades 6-8. Girls were informed of why it is important for them to get an education. Awareness of challenges they may face in attaining an education such as; early pregnancies, poverty in families, girls perceived as less valuable compared to boys, HIV & AIDS and more were discussed. Strategies to ensure that girls do receive an education included; older girls arranging time to visit younger girls in school (mentors), parents and communities enlightened on the importance of girl's education, girls forming study groups, and parents working with the government to ensure safety of girls, among others.
The climax of this event was when the girls were given 220 sanitary towels. Sanitary towels are not readily available to girls in Kenya. The lack of this essential resource hinders their academic pursuits. In addition, 10 fruit tree seedlings were donated to the students to promote protecting the environment. Students were assigned to write essays of phenomenal women they revere from their communities.
Kijana believes in and shall continue to collaborate with communities to ensure that girls are connected, empowered and supported to achieve their dreams. This aim will contribute to the growth of society and realization of Sustainable Development Goal 5 and 17 of Kenya's Gender Equality and Partnerships Goals.
As we inaugurate Black History Month 2022, Kijana has successfully reached out in Palm Beach County and Florida and found school audiences for our Kijana Heroes Poster Series. On Monday January 31st, we set up 36 Heroes Posters at Rosarian Academy in West Palm Beach. On Tuesday, an exhibit of the full forty posters was launched at the Cultural Council of Palm Beach County. Posters have also been distributed to Bak Middle School of the Arts, The Benjamin School, St. Vincent Ferrer School, Holy Comforter Episcopal School in Tallahassee, and will soon be delivered to Oxbridge Academy.  The city of Riviera Beach also has a set for the City Hall.
As we begin to celebrate Black History Month, we encourage you to consider all the contributions made by people of color throughout history. The human experience began in Africa and our present lives are shaped in untold ways by the heritage, cultures and advancements of Africans and people of color. At Kijana, we are grateful for the diversity of cultures and ideas and the complicated global history of idea exchange that has made the world we live in. Yet, we seek to advance society to a better future and our Kijana Global Innovation School, with an enrollment approaching 150 students, is becoming a place where students develop their skills to ultimately change the world for the better.
We appreciate those who have battled to improve life for us all, sometimes sacrificing their own life for our benefit. Each poster also brings to light inspirational character traits which should encourage youth to strive for personal and collective improvement.
Please take some time this month to reflect upon the contributions of Africans, African-Americans and people of the African diaspora throughout history and the present. We also encourage a consideration of ways we can move toward a more respectful, dynamic and collaborative future in which the talents and positive ideas of all are appreciated, advanced, and incorporated toward a better future.
Explore all forty Kijana Heroes on the Kijana website. We are also delighted as we were featured in the Palm Beach Daily News as the posters were set up at Rosarian Academy. Learn More Here.
Happy Black History Month. Let us use this month as a springboard toward reflection, inspiration and action.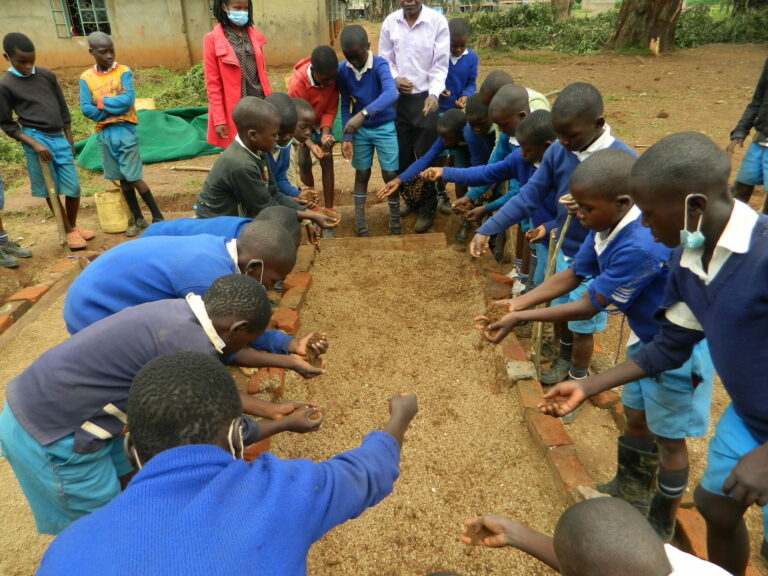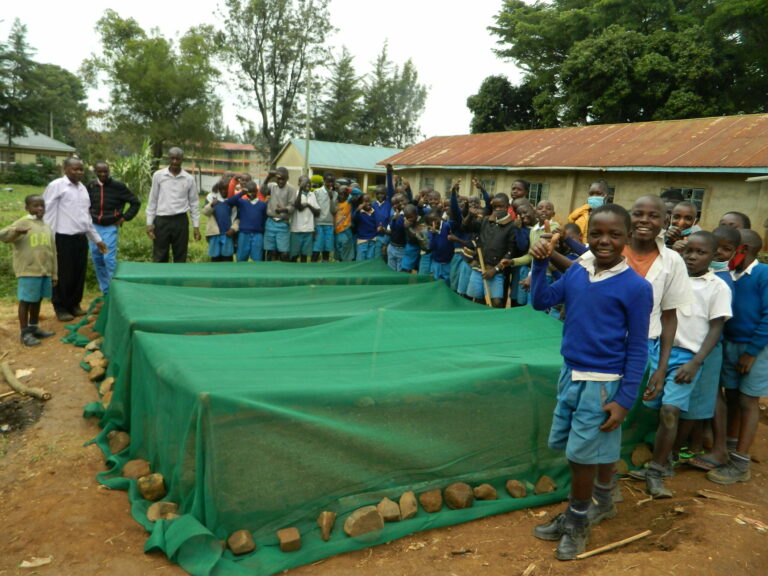 Kijana has launched a major endeavor in the past month. Inspired by the backing of the Wheaton Franciscan Sisters of Wheaton, Illinois, we developed a multi-pronged "Care, Share and Explore" program connecting youth with nature in many ways, including tree planting. Appropriately, as this month is celebrated as "Care of Creation" month, we are hustling to produce 500,000 tree seedlings by October 15th. With the release this summer of the UN IPCC report which reinforces the perilous situation humanity faces and the Kenyan government's plan to plant 2 billion trees by the end of 2022, we are taking action. Collaborating with over 25 schools, churches and other institutions, we are providing seeds, netting and sleeving for the institutions. They create the seedbeds themselves, in a kinetic partnership, aimed at jump-starting youth and others to encourage humanity to truly engage in this struggle. Students, through their 4K Clubs, and teacher monitoring, will water the seedlings and transfer them to sleeves, before ultimately planting in the communities. The above pictures were taken at Buchenya Primary School, in Buchenya sublocation in Kakamega County, Kenya at our seed planting day on September 10th, 2021. The youth at the top is holding a packet of seeds. Students planted Pine and Cypress seeds in these seedbeds. We are inspiring the next generation to care for our environment as we are partners with the plants and other animals in this earthly journey. We look forward to sharing more photos of the actual seedlings. Thanks to our Care of Creation "Care, Share and Explore" team on the ground for making today happen. You have given life to thousands of trees, which will provide for the communities long into the future.
We are grateful to the Wellington Town-Crier for sharing our Kijana story.  Read the following story of how we are building an amazing and innovative institution in western Kenya.  It is now approaching a 35 year progression to develop our Kijana Global Innovation School. We are grateful the multitudes of individuals and groups who have made this possible over the years.
https://gotowncrier.com/2021/05/local-teacher-jim-cummings-builds-school-in-western-kenya/
Tesia Shibilski, who set up a page as part of our Kijana Mary Fields Bus Campaign, raised over $13,000, playing a huge role in our ability to order and obtain a new bus for our Kijana Global Innovation School. We expect the new bus to be delivered by late June. The new bus will allow more students to attend this pathbreaking school, advancing their exploratory and discovery skills. Thank you to Isabel Lawrence and the team at NBC15 News of Madison, WI for sharing our uplifting collaborative initiative.
KIjana's innovative cross-continental artistic collaboration continues, with the recent addition of the "explore, discover, innovate" painting on the "sink wall" of the upper toilet block. Palm Beach County artist, Claire Salmon designed the work, which represents a key element of our educational philosophy: the process of individual and collective innovation, which evolves through exploration and discovery. Western Kenyan artist, Jesse Otukho, painted the mural on the wall. Note the cool glass blocks, which are part of the innovative school design. We teach our students to develop a love of exploration. Next week Jesse Otukho will paint the earth, sun and moon on another wall. Look for pictures soon.
I am Elphas Onyango Otanga, a beneficiary of Kijana Educational Empowerment Initiative in the rural Western Kenya, in Africa. I'm the sixth born in a family of eight; that is my parents and five siblings.
I knew Kijana while schooling at Ebusiloli Primary School in my home area. As an organization, Kijana was sponsoring my school and the neighboring secondary school in a bid to improve education standards so as to enlighten the community. The organization did this by improving learning conditions such as school infrastructure by constructing modern classrooms, science laboratories, walkways and purchasing learning materials that we were lacking.
My personal encounter with  was in 2005 after I did my Primary national exam. I scored 363 Kijana Educational Empowerment Initiative out of 500 marks but my parents had no funds to enable me to join secondary school education, a condition attributed to my humble family background. Kijana Educational Empowerment Initiative came to rescue my dreams by funding my secondary and University education, giving me a rare opportunity to access education I was yearning for. I am now a trained high school teacher in Kenya currently teaching Geography and Kiswahili at Kiaguthu Boys High School in Murang'a county.
I view Kijana as the best organization that has transformed individual youths and a community as a whole in my home area of Ebusiloli, in rural western Kenya. Educating a community is an act of equipping it with tools necessary for shaping life. Going forward, I would like to be a part of people impacting to the less fortunate groups in the society in shaping their lives socially and economically. God bless Kijana.Educational Empowerment Initiative supporters. To each one and all of you, we say; Asante sana.
Simeon Buluku Apeli, now the Inaugural Principal of Kijana's first Global Innovation School and a talented actor was born in 1989 in Emanyonyi village, at Mulukoti area. He's the first born in a family of three children.
He joined Ebusiloli Primary School at the age of 7. He was always his class's top student. In his final year in the school, he was the first index. Subsequently he was the top student in the school's national exam with an impressive 374 out 500 marks, a remarkable score coming from a rural school.
He was chosen to join the best national schools in the country, including Chavakali High School but his parents could not afford the needed fees. He consequently joined Ebunangwe High School in 2005, a much less expensive school, which was within his locality. A year later he served the school as the assistant Head boy. He then moved to Ebubayi Secondary in 2007, and graduated with a C+ grade (which is significantly above average in Kenya)  in 2008. He served as an untrained teacher at Ebubayi Primary school for 2 years perhaps sharpening his ambition of becoming a future fully fledged teacher.
Mr.Apeli, following the footsteps of his father and grandfather, who were both teachers, joined Narok Teachers Training College (TTC) based in Kenya in 2011. He graduated in 2013 with a P1 certificate, Credit 1 rank. He also holds a certificate in Education in Human Values. In addition, Mr. Apeli holds a certificate in Information Technology from Narok TTC.    
Mr. Apeli knew Kijana Educational Empowerment Initiative in early 2000, when the organization was sponsoring Ebusiloli Primary school where he was studying by constructing new modern classrooms to replace the dilapidated old mud walled ones. He vividly recalls that his final class was constructed by the organization.  He adds that the organization bought stationery for the school and donated many books for young learners from the United States of America, under the stewardship of Mr. James P. Cummings, who is the organization's President. Mr. Apeli says that these acts of kindness, motivated him to study hard in the new better environment, so that he can also give back to the society.
Mr. Apeli was appointed as the Inaugural Principal of Kijana's inaugural Global Innovation School in December, 2019 through a successful interview. He's driven by his passion for teaching, significant experience and willingness to serve the society. He's a former teacher and boarding master at Sathya Sai International School.
The Kijana Global Innovation School is located in Butere within Kakamega County, in Western Kenya.  It boasts of a unique international school infrastructure, competent and registered teachers by the Teachers Service Commission of Kenya, a conducive learning environment and international linkages for advancing opportunities for your child and giving them the best knowledge. Karibu.
I am the last born in a family of 6. I grew up in Essaba village of Luanda Constituency in Western Kenya, Africa. My humble background while growing up, awakened my ambition of a becoming a better person in the future.
I went to Mulwakhi Primary School, in Essaba.  Mulwakhi is a local dialect that means a fiery place. The school, consequently, is known for the exemplary academic performance of the majority of its students who come from poverty stricken families. I graduated in 2009, as the school's top girl with a remarkable performance of 324 out of 500 marks.  
I joined Essaba Secondary School in 2010, although my parents were not able to raise my school fees. I thought my dreams as an intelligent disciplined teenager were almost shuttered. Luckily, my life sparkled when I got a sponsorship opportunity with Kijana Educational Empowerment Initiative in 2011, that paid my high school fees for 2 years. The organization also gave me turkeys and tree seedlings that I reared and planted at my home respectively. It is during this period that the initiative was sponsoring so many school infrastructure projects in very many schools of our region in western Kenya in Africa. I don't know of any Non-Governmental Organization in Kenya that has invested in so many of our region's schools.
The sponsorship opportunity motivated me to work hard in school, so that I could further my education, and acquire a good career so that I too can help other needy bright students in Kenya. I am currently a final year student at the Masinde Muliro University of Science and Technology, pursuing a Bachelor of Education Arts Degree, Mathematics and Business specialization.
Kijana Educational Empowerment Initiative has done a good job in supporting needy students in Kenya to acquire education that would change their lives and lives of others in the years to come. Indeed, Nelson Mandela was right in saying that "education is the most powerful tool that can change the world. May God bless everyone who has played a helping hand to ensure that the organization continues to provide the resources to turn many more needy children in Africa's hopes into realized visions.
A Big Thank you to all our donors who contributed to our Kijana Soap Campaign in April and early May. We raised just over $13,000 ( $3,000 over our $10,000 goal) from 146 donors.  Over 90 of the donors were new donors and we are so grateful for joining our Kijana community during this difficult time. We are now in the process of getting soap to over 5000 families in Nairobi and Western Kenya. We began by distributing care packages of soap and food to 100 members of our new Kijana Global Innovation School community.  Care packages included Liquid and Bar soap, wheat flour, maize flour, tea leaves, lentils, sugar, salt, cooking oil and rice.  Community members are tremendously grateful. Soap is being produced at present by our partner and we are planning distributions.  We are also partnering with our key partner, Soweto Youth Initiative to distribute 500 soaps to community members in the highly challenged "slum" community of Soweto, in Kahawa West, Nairobi.
While national borders are shut down and the world disconnects in many ways, Kijana has inaugurated a unique artistic partnership amongst two young global talents: Palm Beach County graphic artist, Claire Salmon, and Jesse Otukhu, of western Kenya.  Envisioned by Kijana President and Executive Director, James P. Cummings, and Artistic designer, Claire Salmon, the five- part mural depicts important rationale for Ocean preservation.  Additional collaborative contributions were made by noted marine biologist, Dr. Molly Cummings, of the University of Texas- Austin.  She developed the key guiding phrase: "Thank you Oceans for cleaning our air, giving us food, cooling our world and starting life on our planet." Local artist, Jesse Otukhu, painted Claire Salmon's artistic design on the dividing wall- separating the welcome area from the classrooms. Environmental preservation is a key component of our school curriculum, as it is for the Kenyan ministry of Education.  We will develop youth sensitive to our shared global resource base and eager to explore and protect those resources for a sustainable present and future.  A second collaborative piece is in the works.: look for news of that soon.
Early in January, we collaborated with one of our key partners, Soweto Youth Initiative of Nairobi, to distribute locally made backpacks and stationery to youth in the highly economically challenged community of Soweto, in Kahawa West, Nairobi.  Working with our local partners and entrepreneurs, we contracted out to have 100 backpacks made and then in partnership with Soweto Youth distributed the backpacks and stationery to underserved youth of the community.  Soweto Youth is a local community driven group that is doing great work in their community.  We followed that up with more purchases of backpacks for our Kijana Global Innovation School students.  This collaboration provided multiple investments:  toward students of the communities, local entrepreneurs, who make the backpacks, and the families of both groups.  See the smiles on the student faces in the pictures.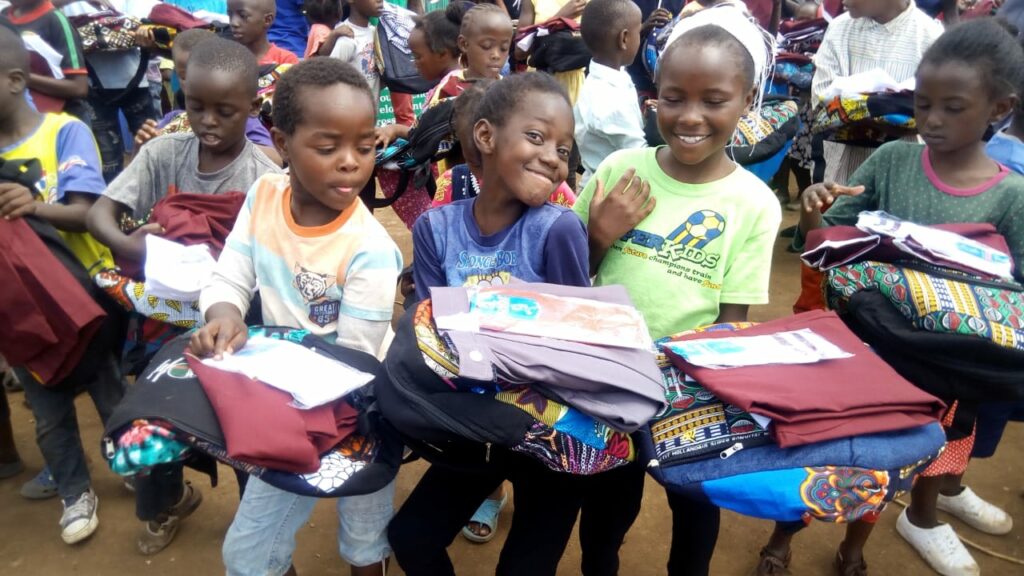 In late February, thanks to some generous early year donors, we were fortunate to be able to purchase our first Kijana School Van. Kijana representatives travelled to Mombasa, on the coast of Kenya where vehicles are imported into the country, explored the options and found a fantastic, clean, relatively new modern style van for school use.  It was recently imported from Thailand.  We drove it out to Kisumu, had it painted, installed a speed governor and other necessary equipment, applied our name and logo, put it through the inspection process, and acquired insurance, and registration.  We were transporting a few students to school for a week before schools were closed on March 16th.  While we are unable to use it for transporting students at the moment, we are fortunate to be able to use it to move our local Kijana team members around safely and with social distance in order to keep our greatly needed work going.
We are proud to inform our donors and supporters that we opened our new school on January 13th with 15 students.  By March 16, when all schools closed in Kenya, we had 28 students.  Our students love the school and the teachers are eagerly working with them in very small group settings.  We acquired hundreds of books, donated from abroad and purchased locally in order to provide our students with a strong and diverse resource base.  We also had just purchased a school van for transporting students when the Coronavirus challenge emerged in full force. The van will be a significant asset to the school and has already assisted us in moving our local team around safely(without relying on public transport)  during this time.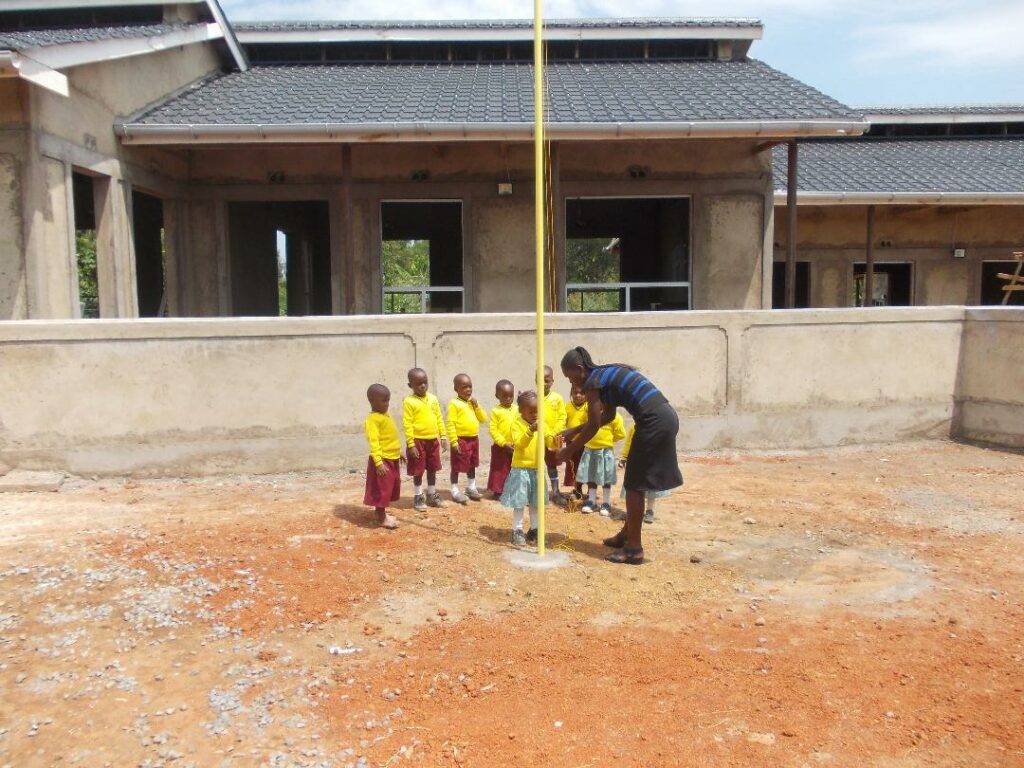 With the temporary closing of the school as our present global crisis, we have continued construction in order to develop the most amazing school in the region (and beyond) and are developing individualized learning plans for our students while the school is closed.  Our team of teachers is working to keep the students engaged academically during this time, giving our students an advantage.  Additionally, we have already distributed a soap supply to all our students'  families to assist them in maintaining cleanliness during this time.  We are presently developing additional soap and sanitizer distribution programs. When schools reopen in Kenya, we will be ready to pick up immediately and provide creative and globally-connected education for our students in a collective setting.  We very much look forward to that day.
Kijana is fortunate to have a talented and energetic local team.  One of our most valuable long-term team members is our multi-talented architect and project contractor, Mr. Jeremiah Awori.  Mr. Awori is an example of the unique grass-roots connections that Kijana President James P. Cummings has developed over decades and the human impact of our small-scale investments.  We discovered Mr. Awori in 2009, when he was teaching at Mwituha, the school we built in partnership with the local Mwituha community.  Mr. Awori, a trained architect, had been jobless for close to a decade, prior to teaching at Mwituha. He had been living and farming at his home.  The restoration of Mwituha, opened up several local teaching positions.  He obtained one of these and during a visit to the community in 2009, James Cummings and Kijana Vice-President, Bruce Huber met Mr. Awori.  A connection was immediately developed as Bruce Huber and Jeremiah Awori collaborated to design the Mwituha Library/Amphitheater, which we then proceeded to build. Mr. Awori additionally served as the chief architect and contractor for the library and amphitheater we built at Lwanda, in Nyanza Province (2014-2015).   
Our joint global effort is evident in our new Kijana Global Innovation School as Bruce Huber created the overall design of the site plan and Jeremiah Awori has again served as our local architect and contractor.  Jeremiah's knowledge of construction, and design and his ability to implement the relatively unique designs of Bruce Huber make for a powerful inter-global team. 
The construction and development of Mwituha has provided for human and economic progress in multitudes of ways, many of which we do not exactly know.  Jeremiah Awori is one example of a highly talented individual, who through Kijana's local investments and explorations, has found avenues for personal development.  After some years at Mwituha, Mr. Awori obtained a position at a local polytechnic school, where he now also serves as Principal.  After visiting Florida in the spring of 2019, as a Kijana Global Ambassador, and visiting local schools, including a tech school in South Florida, he applied for a grant from his county and was awarded $30,000 worth of tech machinery. Mr. Awori, a local Renaissance Man (architect, farmer, teacher) is now in a highly stable position and sharing his skills and talents with others, multiplying the impact. 
Our Kijana Global Innovation School, incorporates a one-of-a-kind design. Jeremiah Awori is the key person on the ground, who has made this happen. It will be a significant legacy. We anticipate much more work in the future.  Jeremiah Awori and KIjana have only just begun.
As our school develops physically, we want to provide you with a glimpse of the people behind the scenes who make the buildings emerge. The key person on the ground overseeing this school development project since last May (2019) is Ms. Ebby Shiroya. Serving as our project manager, she has organized the production of the bricks, negotiated all material purchases, hiring and overseeing construction work, arranging delivery of goods, managing communication with various stakeholders. She is up early in the morning signing in workers and at the site into the evening paying workers on a daily basis. Late into the evening, she has been organizing details and paperwork and communication to keep the development of the school flowing.  Meanwhile, she keeps her other business ( a boutique in Kisumu) operating and supports her family and others.
She is a highly experienced businesswoman, having operated a restaurant and bar for over six years, owning her own taxi and "tuktuk" ( cabined motorcycle), in addition to developing a boutique which markets imported goods.  She travels frequently to Dubai, Thailand, China, Uganda, and elsewhere to purchase goods for her shop.  Moreover, she presently grows bamboo, pawpaws, beans, groundnuts, trees, bananas and other produce. 
We are fortunate to have her motivated, on the ground service to our organization and to the youth of the region.  Her business experience, skillful negotiating techniques and tremendous energy have allowed us to raise these buildings quickly and with solid, high quality construction. 
She is an example of the skilled, experienced, energetic women entrepreneurs throughout Kenya and Africa and whose talent we need to invest in to build a better future for us all.
Help expand academic, social and economic opportunities for youth in Kenya and beyond with innovative education. Enjoy a healthy morning, while bringing improved quality of life to others.
We will be holding our 3rd Annual Kijana 5K on Saturday September 28th at Freedom Park in Greenacres, FL. Join us in running to raise money to continue to construct our first Kijana Global Innovation School, in Sabatia, Kenya- opening in January 2020.   Sign up at the following link:
https://raceroster.com/events/2019/24832/kijana-5k.
Help expand academic, social and economic opportunities for youth in Kenya and beyond with innovative education.   Enjoy a healthy morning, while bringing improved quality of life to others.