Our Kijana Global Innovation School fuses a holistic vision of education to specific learning activities that connect learners to the larger global society which we inhabit and share.
Students are inspired and nurtured to fulfill their potentials and are prepared to advance to the next stage academically with confidence, global understanding, and the individual and collaborative skills to compete and contribute in a challenging and engaging world. Kijana's developing world class institution is also a venue for international collaboration as educators and students from other countries, including the United States, are invited to visit, learn, and share in a beautiful and culturally interactive environment.
Students learn to be engaged global citizens. Students interact directly with their peers in other countries and are taught global challenges and develop skills in analysis and problem-solving in order to be life-long global citizens. Students at the Kijana Global Innovation School learn how to overcome challenges both individually and collectively.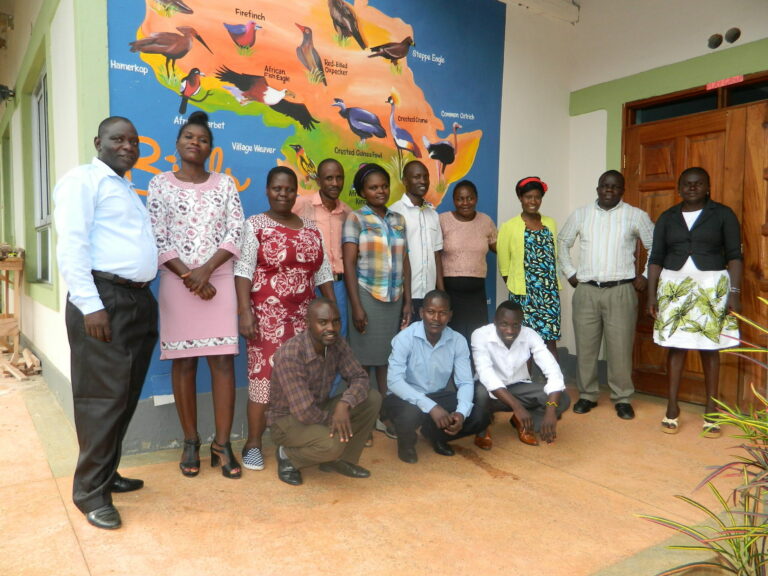 A school's teachers are the heart and soul of the educational and personal relationship to learning for students. We have carefully selected a team of dedicated, experienced, innovative, and personable professionals for our teaching staff.
Our teaching staff is complemented by a small team of staff members, who assist is creating a comfortable, safe, and structured environment for learning. Additional non-teaching staff members include a secretary, cook, cleaner, and driver. 
Our team of caring professionals is dedicated to providing an enjoyable, yet energetic learning experience for our youths.
Ebby Shiroya – Project Manager, Director & on-the-ground School Developer
Our school has not come together on its own. The central on the ground person, among many, who has orchestrated the rise of the school  bringing together material and construction skill with staffing is Ebby Shiroya. An experienced Kenyan entrepreneur, she orders the materials, inventories them, finds and manages the construction workers, provides oversight to school management and collaborates with many key players to ensure that the Kijana Global Innovation School develops physically and runs smoothly.
Her many years of experience as a self-made entrepreneur have proved invaluable to us as the school develops. She has owned and managed a bar and restaurant, taxi and tuk-tuk  businesses, and two boutiques and continues to have a hand in the boutique business. In addition to overseeing school developments, she is a farmer of bamboo, trees, and numerous vegetables, as well as a real estate developer in Sabatia-Butere.
Having travelled widely in Africa, Asia, Europe and North America including Uganda, Congo, Eritrea, China, India, Thailand, Dubai, the Netherlands, France, Belgium and the United States, she brings a breath of cross-cultural knowledge and experience. She serves as a model for our investment in and collaboration with local citizens and recognition of the power of youthful entrepreneurs of Africa. We anticipate that our Kijana Global  Innovation School students will develop powerful collaborative skills for successful entrepreneurial ventures of the future.
Jeremiah Awori – Chief Architect
Kijana is fortunate to have a talented and energetic local team.  One of our most valuable long-term team members is our multi-talented architect and project contractor, Mr. Jeremiah Awori.  Mr. Awori is an example of the unique grass-roots connections that Kijana President James P. Cummings has developed over decades and the human impact of our small-scale investments.  We discovered Mr. Awori in 2009, when he was teaching at Mwituha, the school we built in partnership with the local Mwituha community.  Mr. Awori, a trained architect, had been jobless for close to a decade, prior to teaching at Mwituha. He had been living and farming at his home.  The restoration of Mwituha, opened up several local teaching positions.  He obtained one of these and during a visit to the community in 2009, James Cummings and Kijana Vice-President, Bruce Huber met Mr. Awori.  A connection was immediately developed as Bruce Huber and Jeremiah Awori collaborated to design the Mwituha Library/Amphitheater, which we then proceeded to build. Mr. Awori additionally served as the chief architect and contractor for the library and amphitheater we built at Lwanda, in Nyanza Province (2014-2015).   
Our joint global effort is evident in our new Kijana Global Innovation School as Bruce Huber created the overall design of the site plan and Jeremiah Awori has again served as our local architect and contractor.  Jeremiah's knowledge of construction, and design and his ability to implement the relatively unique designs of Bruce Huber make for a powerful inter-global team. 
The construction and development of Mwituha has provided for human and economic progress in multitudes of ways, many of which we do not exactly know.  Jeremiah Awori is one example of a highly talented individual, who through Kijana's local investments and explorations, has found avenues for personal development.  After some years at Mwituha, Mr. Awori obtained a position at a local polytechnic school, where he now also serves as Principal.  After visiting Florida in the spring of 2019, as a Kijana Global Ambassador, and visiting local schools, including a tech school in South Florida, he applied for a grant from his county and was awarded $30,000 worth of tech machinery. Mr. Awori, a local Renaissance Man (architect, farmer, teacher) is now in a highly stable position and sharing his skills and talents with others, multiplying the impact. 
Our Kijana Global Innovation School, incorporates a one-of-a-kind design. Jeremiah Awori is the key person on the ground, who has made this happen. It will be a significant legacy. We anticipate much more work in the future.  Jeremiah Awori and KIjana have only just begun.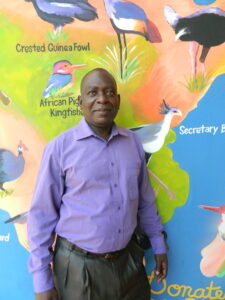 Geoffrey Otieno Angila was born in 1975 in Kamgan Village, Kisumu County. He is the second born in a family that includes 9 children. In 1990, Geoffrey sat for and passed his Kenya Certificate of Primary Education (KCPE) exam and became employed at Ringa Boys High School in Homa Bay County. In 1994, he passed his Kenya Certificate Secondary Education (KCSE) exam. In 1996, he decided to pursue a volunteer teaching position at Obingo Primary School in Kisumu County. Geoffrey's efforts as a volunteer teacher led to full-time teaching opportunities from 1996-2006 at Kapsorok Primary School, Kamakowa Academy and Salem Academy. He was promoted to Deputy Head Teacher of Salem Academy and served in that role from 2006 and 2009.
Following the 2009 school year, Geoffrey was hired at Temudo School, in Kisumu County. There, he served as the school chaplain, librarian and music teacher. His leadership helped shape a successful music team that achieved provincial level recognition. He was promoted to senior teacher in 2013, then deputy head teacher in 2014, before ultimately becoming the school's head teacher. While employed at Temudo School, Geoffrey registered at Mission for Africa College to pursue a certificate in teaching in 2014. In 2017, he enrolled in a diploma course, and after successful completion of the course, registered with the Teachers Service Commision (TSC) of Kenya in 2017. 
In 2021, Geoffrey was hired after a successful interview at Kijana Global Innovation school. Currently, he is the school's Deputy Principal and Director of Curriculum. Geoofrey states, "I was motivated by the vision of the school, the act of kindness and the spirit of team work. I am willing to utilize my expertise in the field to uplift the standards of the school."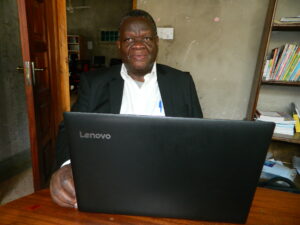 Naman Anjichi is a retired high school teacher in Kenya and a board member of Kijana Educational Empowerment Initiative. He was born in 1954 in Emakunda Village, in Ebusikhale Sub location, Luanda Township location, in Vihiga County in Western Kenya. He has a family of 9 which comprises his 5 children and 2 fosters from his late brother. He is a left-handed, jovial and witty man with a generous heart of helping the needy in society. He is a rare breed of a listening and caring leader.
He joined Mumboha Primary in 1962 and graduated from the school in 1969. He then joined Emusire High School from 1970 to 1973 for his O level education. While at Emusire High School, he would walk a distance of 10 kilometers in order to get to school daily. He later joined Kericho High School in 1974 and graduated in 1975 at the top of the class. He joined the University of Nairobi in 1977 and graduated in 1980 with a Bachelor's Degree in Education Science (Honors – Upper Division). 
Mr. Anjichi spent his teaching career as a teacher of two of his favorite subjects; Biology and Chemistry. He was motivated by the desire to alleviate illiteracy in society. He started his career at Chesamisi high school, where he taught from 1980 from September to November. He then moved to Butere Girls High School where he taught from November 1980 to December 1993. He says that this school shaped him as a teacher because it not only had set high academic performance standards in the country, but it was multicultural; composed of teachers from various countries and across different ethnic communities in Kenya. He was then promoted to serve as Deputy Principal at St. Anne's Nzoia School from January 1993 to February 1994. He then moved to Likuyani Secondary School from March 1994 to February 1998. 
He finally served at Ebusiloli Secondary School as the Principal from March 1998 to October 2015. Mr. James P. Cummings, the K.E.E.I president nicknamed him after the longest serving U.S president Mr. Franklin Delanor Roosevelt. During his time at Ebusiloli, his name reverberated across Vihiga County for his exemplary leadership and networking skills that transformed Ebusiloli Secondary School. He improved the school mean score from below average to above average, increased student enrollment from 70 to over 700 and purchased a bus for the school. In addition, Anjichi purchased extra land for the school, increased classrooms from 4 to 12, constructed a library and computer laboratory and increased the number of students joining universities from the school.
While teaching at Ebusiloli Secondary school, Anjichi met Kijana Educational Empowerment Initiative President Mr. James P. Cummings (Jim) who had taught at the same school in the 1990s before going back to the U.S.A. Anjichi recalls that Jim tremendously helped change the infrastructure of the school. Through the organization, Jim constructed a science laboratory and a modern teachers' house. He constructed walkways throughout the school and painted the classrooms. He also donated valuable textbooks to the school, installed solar panels and carpeted the school lawns. Furthermore, Jim paid school fees to bright needy students from the school; a majority of whom joined different universities across Kenya. He hired and paid salaries for teachers at the school, in order to curb the staff shortage. He also facilitated cultural exchange programs between Kenyan and American students. 
Anjichi vied for Member of County Assembly for Luanda Township ward in 2017 and emerged as third out of nine contestants, gaining vital grassroots mobilization skills. He is happy to have transformed the lives of many students during his 34 year teaching career. He is remembered for his famous quote that 'what you will be, you are becoming.' Long live Anjichi.
Care, Share and Explore Program Team
We opened our Kijana Global Innovation School with 15 students on January 13, 2020.  Five teachers served as our inaugural faculty.  The school was still in the process of being constructed, yet our students and their families were eager to be part of such a special and growing school. From the beginning, classrooms were much more spacious than area schools and the rooms were clean and with only 15 students, the five experienced teachers were able to provide significant individual attention to learners. By March 13th, when all schools in Kenya were closed due to the pandemic, student enrollment had risen to 28.  Since the school has closed, we have continued to provide students with resources to learn at home.  We have additionally provided families and other community members with care packages of food, soap, and masks to assist them during these challenging times.
We had only just begun to develop a lively and comfortable learning environment for our students when the pandemic forced all schools to close.  We are continuing to develop an environment where learners explore, play, interact with their peers and adults in a safe environment for development. We have a comfortable playground, very spacious classrooms with inviting furniture, many contemporary children's books and beautiful kid's carpets.  We are developing plans to incorporate manipulatives, such as LEGO, into a structured learning environment with the goal of ultimately developing a robotics team.  Each student has access to reading material at present and we are diligently developing a literary culture.  We believe strongly that the physical learning space is extremely important. Students learn and feel comfortable, as we all do, in beautiful, inviting places. Consequently, we have unique public art already established on the school campus and will be developing wonderful artistic displays throughout the school in order to encourage the development of student creativity and expression. Students will ultimately be invited to create their own artistic expressions which will be preserved over years at the school so students learn to shape and impact their community and etch their own creative mark on the future.
The Kijana Global Innovation School has been a long term goal of Kijana President James P. Cummings, who after 30 years of sustained relationship building and commitment to uplifting educational communities of western Kenya and beyond, has succeeded in opening the doors of the institution.
The Kijana Global Innovation School has a capacity of 250 students as of mid-year 2022.  Kijana Educational Empowerment Initiative, the parent NGO/Non-profit organization is developing a robust financial aid program to serve many of the capable, but underserved youth of the local community as it grows.  President James P. Cummings intends to develop the school into the most advanced academic K-12 institution in the three-county region of Kakamega, Siaya, and Vihiga and a model for K-12 educational development worldwide. 
Phase One of the School's physical development was overseen by Project Manager, Ebby Shiroya. The Architect and Contractor was Jeremiah Awori, and the site plan initial layout was the vision of Kijana Vice-President and Co-founder, Bruce Huber.  The Founding Principal was Mr. Simeon Buluku Apeli.
The school is located at Sabatia-Butere, Kakamega County, at Mulusi Village, Ekero-Buyango Rd. Kenya. Contact us at:
Phone:  +254 758 074 712
Email:  kijanaschool@kijana.org
Our Multi-year Capital Campaign
Our Kijana Global Innovation School has only been possible as a result of many generous donors.  We are in the midst of a multi-year Capital Campaign to raise the necessary funds to build this institution of wonder, exploration, inspiration and collective and individual skill development. 
Consider joining the many individuals, and foundations, who have invested in our vision and are paving the way for these incredible learning opportunities for our global youth.  
Together we are creating opportunities for youth to explore their talents, find new inspiration, seek new avenues for determination and become change-makers for the future in a variety of ways.
Thank you very much to all who have contributed. Click on the following Donate Today button to see our Givebutter Campaign page. If interested in donating in other ways, including stock, please contact Kijana President, James P. Cummings at kijana@kijana.org.
We recognize here the leadership gifts and pledges of the following individuals and foundations. We will update the list as new gifts are donated. We are particularly grateful to Stephanie and John Pew, whose gift in May 2019 of $100,000 provided us with the seed money to begin construction in earnest, launching the development of the school.
Happy New Year and thank you to all of you who continue to make the world a better place. Jim-you and your crew are magical and these kids need you!
Kijana is set to provide a first-class education to an underserved community by prioritizing improved student outcomes in academics and community life.
Big fan of Jim Cummings and everything he is doing to make this happen!
This is such important work you are doing. Jim (and all who are involved). Thank you!
We have chosen to support the hard work and sincere dedication of Jim Cummings . . . it's the least we can do.
Because I am so impressed with the wonderful work that Kijana is doing. Onward and upward!
Thank you for including your fellow World Teach teachers in this amazing project!
We are happy to support this wonderful school.
Just want to support education in Kenya.
I am happy to support this incredible organization making a tangible impact on the lives of so many children.
My donation is to honor Mr. Cummings and Dustin Milner.
Kijana employed at Ebusiloli Secondary School on BOM terms in 2007 and part of 2008. I will be forever grateful. God bless Kijana.
Everyone needs the opportunity to learn and grow!
We have decided to make a more lasting and continuous gift to honor the power that education and great teachers can have on individuals and our world.
If we can help one student benefit from the great work Kijana is doing, I know that the benefits will flow for generations and never stop growing.
What a wonderful contribution to improving the world! Good luck and may God Bless all involved in making this dream a reality.
We knew from the start how hard Jim Cummings has worked on this and how much he believes in it . . . congratulations Jim!
EVERY young person should get a great education. Thank you Kijana and James Cummings for making it happen!
I have known Jim for almost 20 years. The selfless commitment and stand that he takes for this community is humbling and inspiring! Thank you Jim!
Many teachers are good, but the great ones are life-changing! Honored to support!
This is to honor the impact Mr. Cummings had on my life and my wonderful experiences in Africa that he inspired.
May the futures of Kijana students be as bright as their smiles. We stand confidently with you.
This is such a worthwhile project.
God's grace enables us to give when we are able for the betterment of life on earth.
We believe that education is the key to a better life. Good luck with our best regards.
Educating the leaders of tomorrow!
Great to see our own Kijana school open!
I have such a deep connection to Kijana and I am so happy to be able to support.
I've known James Cummings for several years. I've never known such sincere dedication to improving people's lives.
This donation is on behalf of John Billingsley and his commitment to the Kenyan children who will benefit from this school.
This is a wonderful school that will change the lives of thousands of children!
Good luck with the new school!
A bright future for every child.
Happy to donate for educational help in Africa.
In support of a teacher who made an impact many years ago, and continues to make an impact!
I know this group and have watched the school grow and thrive. I can't think of a better reason to support it.
Wise investment for the future of international involvement!
Pleased to contribute to a worthy cause.
Education is a human right. Thanks for doing this excellent work.
Kijana's mission to provide thousands of youth with access to top education is unmatched by any other NGO I've seen.
Kenyans yearn for education and Kijana has blessed so many students and families with opportunities. I can't wait for this new school to bless more.
I heard about this news from Miss Omondi and I had to support this act of kindness.
Kijana has bettered the lives of thousands of kids and this new school will give a new generation the education they need to make a difference!
What an amazing person to have such a big heart.
I love what Mr. James Cummings is doing in Kenya. Education is power.
Proud to donate to this campaign.
So excited to watch your new project unfold! Congratulations to another new beginning.
Kijana is doing great work by helping to educate young kids in Kenya and in Florida.
You've created a magic place...with a little help from your friends!
It's just amazing! Such good work you are doing, Jim.
The happy faces of the children touched my heart. Jim, you are giving them the best gift of all; love and learning.
Beautiful children, beautiful school!! Their lives are forevermore changed for the better.
Congratulations on so much progress - just think where the school will be in another 2 years?!!!
Two years, wow. I am so happy for this!!!!
Jim, you are a superhero and changing the world!
Global Opportunity Builder: $1,000,000+
Global Transformer: $500,000+
Kate and Geoff Cubitt
Stephanie and John Pew/John and Stephanie Pew Family Foundation
Global Adventurer: $250,000+
School Starter: $100,000+
Student Opportunity Catalyst: $50,000+
James Bere
Gail and James L. Cummings

Anonymous
James E Bohnen/The Osprey Foundation
Randall and Rebecca Doane, Edward & Bethel Kean Foundation
The Endeavor Foundation
Suzanne and Brian Selmo

Anonymous
Mark Blank
Michael B. Cummings and Karen Hyun
Tammie and RJ Cummings
Marna and Phil Pier
Sherman M. and Rita Siegel Foundation
Linda Bohnen
Kulwant S. and Amritk K. Dhaliwal Family Trust
The Grandone Family Charitable Fund
Koches Family Foundation
Ellin and Bruce Miller
Mildred L. Phillips Charitable Foundation
Sandra Young
Independent Thinker: $1000+
Hyacinthia Becton
Elizabeth Brown
Hersha Chauhan
Kathy Craft
Chad and Nancy Dickerson Giving Fund
Allen Eyestone
Lynne and Perry Feyk
Erika Ford
Kathleen Hudson
Andrew Isaacson
Sheryl Kittrell
David Koerner
Lisa Koches
Paul McAvoy
Leslie McBride-Salmon
Nancy McDaniel
Joseph and Mary Merchant
Rhinah Ondiso
Kevin and Chris Pearson
Kelly Pontano
Megan Sarnecki and Robert Cummings
Jack and Anita Scarola
Priyesh Shah
Ariel Shibilski
Lekshmi and Nanda Venu
David Watterson
Aaron Wielenberg
Kate Wolters
Helen and Chet Zientek
Hailey, Nick and Marion Albergo
Terri Auchter
Nikolaos Biziouras
Catherine Broadhead
Ben Clark

Sam and Alie Cohen
Molly Cummings
Rohit Dandiya
Chad Dickerson
Susan Duncan
Richard L. Fleischer
Marcus Fox
Daniel and Laura Fry
Marion Gentles
Frank and Sarah Hamlin
Jean Hanson
Julie and Daniel Hershman

Bruce Huber
Margaret Lawler
Paul Lawler
Johnny B. McKenzie
Kristi and Michael McNamara
Ann Mommsen
The Dante Moreira Gilbert Fund
Travis Pew
Chris Roemer
Rebecca Ryan
Robert Simpson
Kelly Slone
Camille Wilson
Amy Abrams
Kristin Aiello
Anonymous
James Anderson
Nancy Anderson
Robert J. Anderson
Jorge and Montseratt Arpa
Julia Augustine
Christopher Bartz
The Began Family
Dawn Benbow
Lance Bertrand
Reid and Amy Bierer
John Billingsley
Patricia Blash
Christian Blomquist
Ethan Bloomberg
Caroline Boetzelen
Josh Bohnen
Krishna Boodram
Amy Bordoni
Jessica Brandstetter
M. Burhani
Rebecca Bush
Nick Chimerakis
Jim and Donna Christol
Martha Clark
Adam Click
Jennifer L. Cohen
Margaret Anne Cummings
Marsha Cummings
Peter D'Angelo
John P. and Edna O. Dameron
Philip Dameron
Bindi Dharia
Catherine Dzendzera
Lee Edwards
D Eng-Wong
Patricia Faivre
Joyce Farling
Elizabeth O. Feldman
Tiffany Felician
Michael Franco
Robert Gass
Sandra Gass
Martha Gilbert
Daniel Goggin
Marianne Gold
Matt and Kathryn Goldberger
Elena Gostic
Allan Hamby
Brian Hammer
Elizabeth Harris
Dee Hilfiger
Corey Hill
Nancy Hill
Roy Hines
Lee Hooks
Gary and Carolyn Huber
Ted and Claire Hubley
Steve Hunt
Benjamin Isaacson
Matthew Inbusch
Steve Jacobs
Marcia Jacobwitz Lederman
Karen Jape Braun
Dana Jaasund
Jennifer Johnson
Amanda Kaminsky
Sarah Kasher
Scott Kattenbraker
Katie Kempff
Frank and Kim Kearny
John Kempff
Samantha Koches
Andrew Krumholz
Richard Krumholz
Scott Lockhart
Mark and Madeline Madison 
Tara Mason
John McAvoy
Everett McKinney
Sue Mehok
Haley Merritt
Christine Meserve
Richard J. Morey
Alison Morris
Judith Morris
Ann Murray
Anne Myers
Scott Myers
Carla Neumann
Jeanne Nolle
Northside Kiwanis Club
Stephen O'Bryan
David O'Neil
Kim Ogadhoh
Ruth Ostrom-Becker
Brian Patterson
Chris Pearson
Jeffrey G. and Lisa A. Pereles
Ruth Petzold
Kristen Phillips
Dan and Tom Pier
James Pier
Joseph Pikiewicz
Todd Poisson
Justin Puya
Katharine Raphael
Azadeh Rashidi
Caroline Razook
Erica Razook
Linda and Ron Ream
Ashlee Richman
Wilson Rickerson
Robert Rickert
Elisabeth and Jules Romfh
Lyn San Pedro

Gretchen Schaefer
Valerie Schuster
Jane Scott
William Searcy
Robert Seidel
Burt Seifman
Jay Selvig
Madeleine Seville Hilkey
Alexandra Sexton-Milligan
Ebby Shiroya
Sarbjit S. and Sukhdeep Sidhu
Eunice Simindu
Eban Singer
Linda Siris
Laura Sminkey
Eytan Solomon
Joshua Stastny
Sara Steele
Jerry H. Steinberg
Byron Stigge
Angela Szuminski
H. F. Tang
Dan Tighe
Julie Thompson
Ian Toner
Hansel Tookes
Matthew Tyson
Elizabeth Van Itallie
Ashley Van Valkengurgh
Natasha Vora
Lussy Wamboi
Terence Watterson
Debra Watkins
Joe Watson
Jamie Weinstein
Colin White
Marion White 
Tammy Winn-Bocher
Jennifer Yang
Helga Ying, Jonah Levy and Family
Elizabeth Young
Joseph Zeidman
Chester Zientek
Kara Zuaro
Julaine Zuelzke