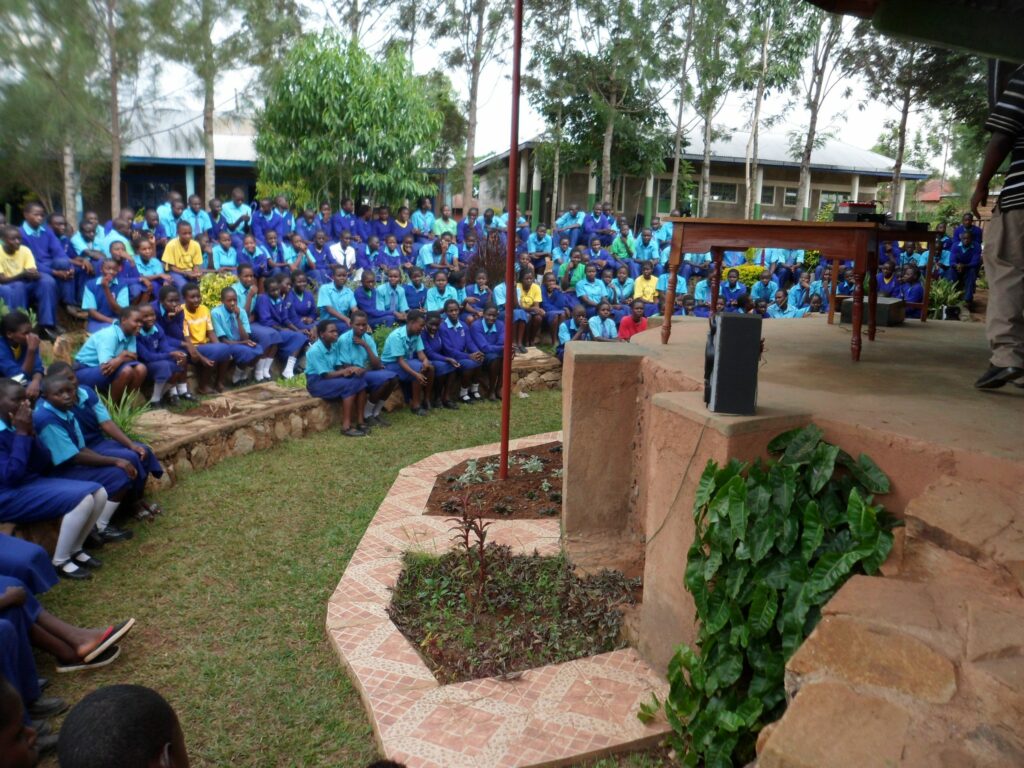 Ebusiloli Primary School
Ebusiloli Secondary School
Mwituha Secondary School
Mwituha Primary School
Ebusamba Primary School
Essaba Secondary School
Essaba Primary School
Mumboha Primary School
Esirulo Primary School
Ebbiba Primary School
Ebukuya Primary School
Essumba Primary School
Lwanda Primary School
Kijana has invested in over 70 schools in Kenya over the past twenty years and developed unique cross-cultural connections with communities in the United States.
After official founding in September 2002, Kijana's first major school investments took place in the fall of 2003. Ebusiloli Secondary and Primary School's were the first recipients of major investments. They had also received significant support from 1998-2001 (during the pre-Kijana Benjamin cross-country runathon fundraiser era).  Kijana funded several infrastructure projects, including improving floors, walls, classrooms, painting classrooms, acquiring books, paying for teachers salaries and more.
In 2004 and 2005, several primary schools, including Essaba, Ebukuya, Esirulo, and Mumboha were the beneficiaries of our first area expansion. In 2005 to 2006, Kijana founder, James P. Cummings was introduced to the Mwituha community and their needs. Mwituha had the remains of a defunct secondary school. Students were walking more than two hours each way to attend Ebusiloli Secondary School. We embarked upon the mission of restoring Mwituha so students could have a school near their home. Over the course of the next six years, Kijana invested annually in Mwituha, building classrooms, an administration building,  a science laboratory and ultimately a unique combination library and amphitheater. Mwituha has been a self-sustaining institution for many years now, enrolling over 500 students annually and sending students to the Kenyan university system annually for quite some time. 
After Mwituha, we moved to building a similar library and amphitheater at Lwanda Secondary School, in Nyanza province in an effort to expand beyond western province. Over the course of a few years, Kijana raised the money and constructed a library and amphitheater at the school. Additionally, Kijana shipped over and donated many books to the school library. 
Also over the course of several years, Kijana collaborated with PeaceOneDay and organized Peace Day events at several schools. 
Kijana also developed many collaborations with schools in the United States through pen-pal initiatives and other endeavors. Students in the Upper and Lower schools at The Benjamin School wrote letters to their global peers in Kenya and students from the schools wrote to them. Freshman world history students at Newburyport High School in Newburyport MA undertook a similar initiative, writing to students at Ebusiloli Secondary School. The Newburyport students also initiated a "Kash for Kenya" drive, raising several hundred dollars to assist students in Kenya.

In 2010-2011, Kijana organized a cross-cultural water education project connecting students from the Benjamin School, in North Palm Beach, FL with students from three schools in Kenya, Ebusiloli, Mwituha and Essaba.  The program was developed by former Benjamin student, and Kijana volunteer, David Watterson. Mr. Watterson developed the program as part of his capstone project at The Clinton School, in Little Rock, Arkansas. He had also been a participant in a month-long expedition to South Africa, with Kijana President James P. Cummings and others in 2003, while Cummings was teaching at The Benjamin School. Cummings has also orchestrated the visits of over 60 Americans to western Kenya and the schools connected to Kijana.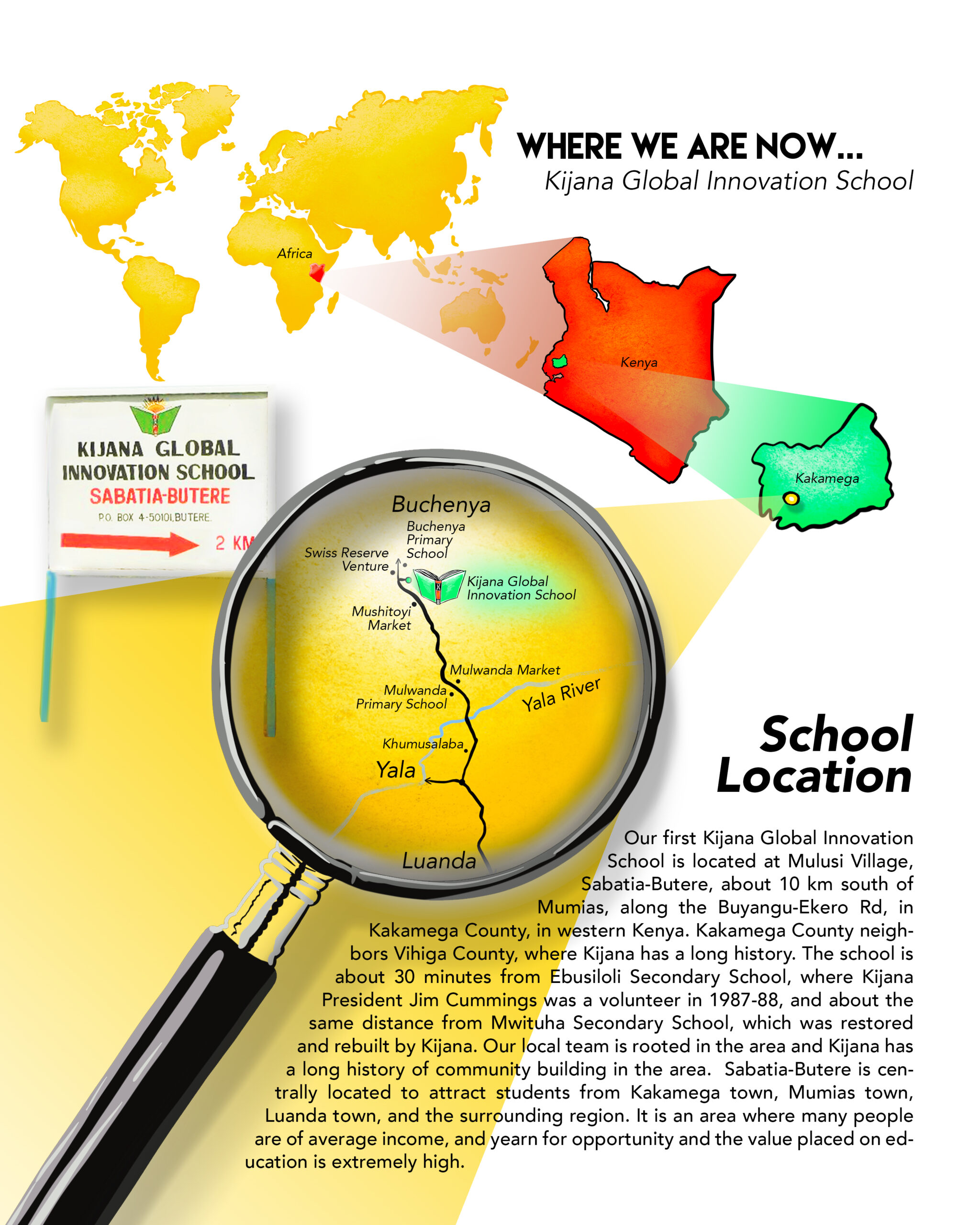 The Kijana Global Innovation School - Opened January 2020

Breaking Ground in 2023 - Library and Media Center
Harpreet Dhaliwal was a 7th and 8th grade student of Kijana President, James P. Cummings, at The Prairie School, in Racine, WI. Dhaliwal and Dameron have been collaborating with our team for several months now in designing a unique and functional space that will allow students to explore, discover and innovate. Dhaliwal has been recognized for her architectural designs in public space. She played key roles in the design of the LEED Platinum comfort station in Washington Square Park, the New York Hall of Science Playground and the NYC Department of Parks and Recreation Headquarters and is presently involved in notable NYC public space developments.
Christopher Dameron's award-winning firm, Dameron Architecture specializes in "ecology-inspired designs and adaptive resuse." They design "beautiful spaces, fantastical and expressive buildings and living landscapes that connect people to nature." Our students will have an expressive building connected to nature that encourages individual and collective expression.