Jim Cummings grew up in Neenah, WI, after having entered the world in Milwaukee.  He attended both public and Catholic schools, graduating from St. Mary Central H.S. in Menasha, WI in 1982. He was elected and served as Student Council President his senior year.  While in Junior High and High School, one of the most impactful educational experiences he had was attending summer camp at Camp Manito-wish, in Boulder Junction, WI. At Manito-wish, he participated in numerous outdoor canoe trips, culminating in his being invited to join the Outpost program. As part of the Outpost program, he canoed in the Boundary Waters and with a team of elite outdoorsmen, canoed the Berens River and down 60 miles of Lake Winnipeg, as a member of the 1981 Canuck expedition.  It was at Manito-wish that his exploratory nature was nurtured.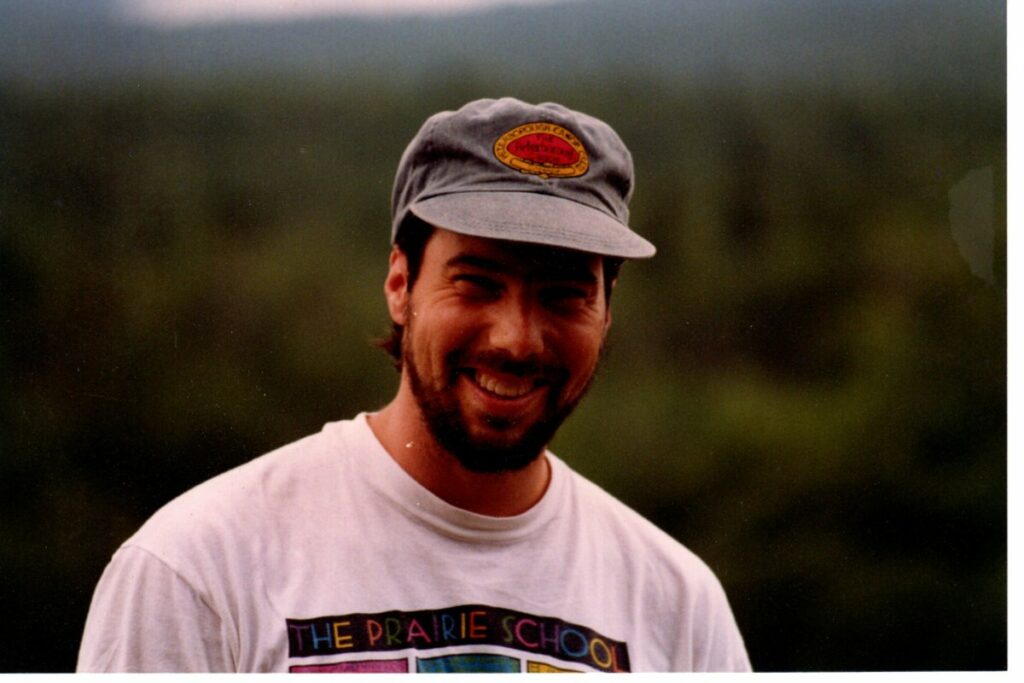 In the fall of 1982, he matriculated at Macalester College, in St. Paul, MN.  While at Macalester, he continued to explore the world, participating in educational programs and experiences in Costa Rica, the UN, Nicaragua, the former Yugoslavia.  As a culmination to the Yugoslavia course, he and a few friends, travelled to Tunisia for a few days. It was there that his curiosity of Africa was wetted.  In 1986, he graduated with a BA in History and International Studies. 
In August of 1987, he joined WorldTeach, as a member of one of the first groups of teachers the organization sent to Kenya.  He taught English at Ebusiloli Secondary School, in Bunyore Kenya, living for 15 months at the school, without electricity or running water. While teaching at Ebusiloli, he learned about local culture, met many lifelong friends, and developed valuable teaching experience.  He also took time during school vacations to continue to explore, travelling to the coast of Kenya, climbing Mt. Kilimanjaro in Tanzania, and travelling to Malawi, with friends.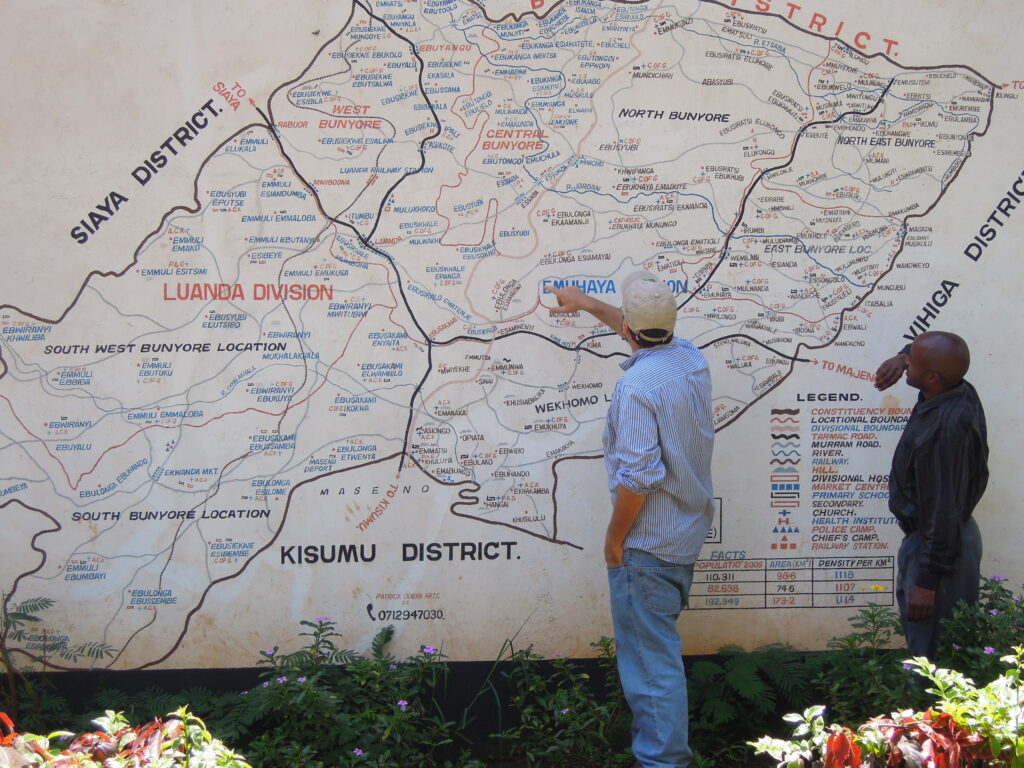 After finishing an extended time teaching at Ebusiloli, he travelled through Asia and back to Europe via the "Trans-Siberian Express" (via Mongolia).  He ventured from Kenya to Hong Kong, then to the Philippines, back to Hong Kong, then spent a month traveling by train through China ( Hong Kong to Guangzhou to Wuhan to Shanghai to Xian to Beijing) and then taking the train from Beijing to Moscow (through Mongolia).  From Moscow, he took the train to Vienna, stopping in Budapest, along the way.
After returning to the United States, from teaching and travelling, he was hired by The Prairie School, in Racine, WI, to teach Middle School Social Studies. He taught 6th, 7th, 8th, and 9th grade History and Social Studies during the 1989-93 years.  During this time, he taught Ancient and Medieval History, and Area Studies courses on Africa, India, China, Japan, Russia and "the Soviet Union" and then Russia and the "former Soviet Union," and the US Constitution. Additionally, he took students to a model United Nations, organized an Oxfam lunch, coached Cross-Country, and attended professional development conferences.  At Prairie, his real storytelling began, sharing experiences of Kenya and Africa with students.
He attended the University of Wisconsin-Madison, from 1994-1995, studying African History, earning a MA degree in History in 1995.  At UW-Madison, he also studied Kiswahili, as part of the program, and met many fellow Africanists and expanded his knowledge of the continent's rich history and developed a larger network of contacts.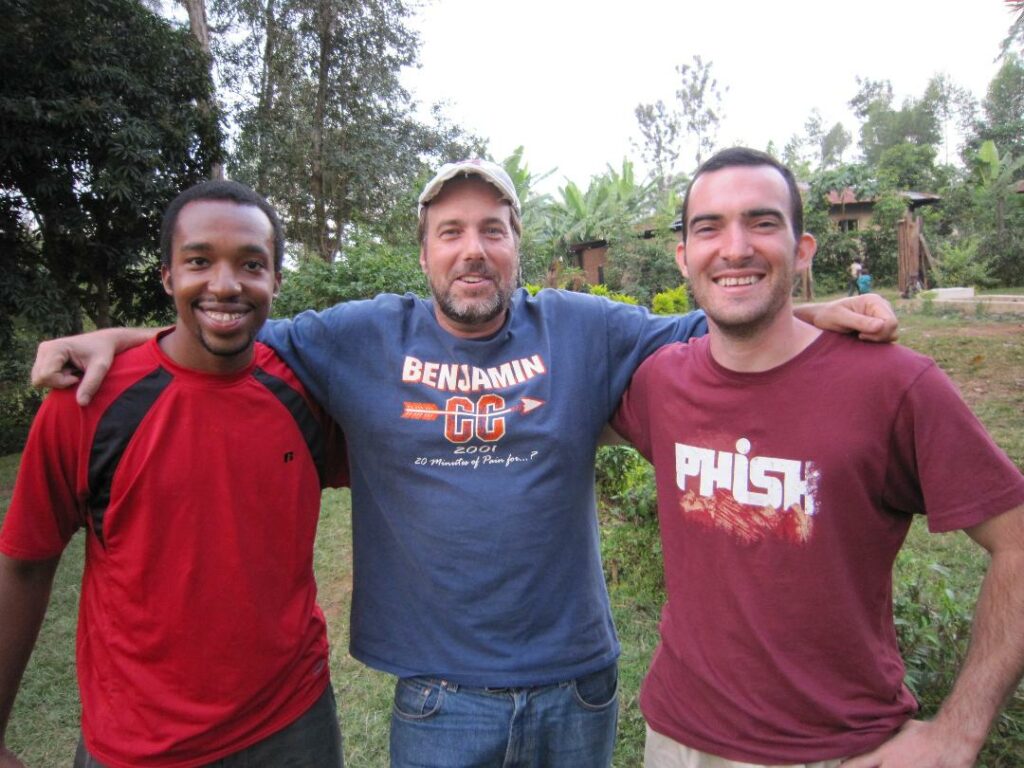 In the summer of 1995, he moved to South Florida and began the most substantive professional teaching tenure of his life, beginning a 14-year career at The Benjamin School.  It was at Benjamin that Kijana Educational Empowerment Initiative was born.  While teaching Social Studies (including Intro to Economics, Civics, International Studies, African History, AP US Government, AP Comparative Government, and World History, he continued to share stories of Kenya and Africa, which resonated with students and colleagues.  Additionally, he coached Cross-Country, orchestrated student expeditions to Tanzania and South Africa, led delegations to Harvard Model Congress in Boston for more than a decade, and sponsored the Environmental Club, among other school contributions. In 1998, while coaching Cross-Country, he and some cross-country runners organized a small run-a-thon to raise money to assist Ebusiloli, the school he taught at in Kenya.  This was the essential forerunner to Kijana.  For four years, Cummings and his runners raised money each spring and in the summers, he travelled to Kenya to oversee school development projects, including painting classrooms, repairing floors and walkways, purchasing books, installing solar power, improving teacher housing, buying science equipment, installing cement floors in the primary school, to replace cow dung floors, and more.
In 1999, he organized for his longtime friend, Abel Kutai, to visit the United States as a visiting teacher. Mr. Kutai, shared stories and lessons from Africa in Jim's African History class and visited other classes as well.  Benjamin alumni remember Mr. Kutai's visit decades later.
In 2002, he and his Benjamin colleague, Bruce Huber formed Kijana Educational Empowerment Initiative, registering it as a 501c3 non-profit organization. In the summer of 2003, he served as the link teacher for a student expedition to South Africa through a program called World Challenge Expeditions. Five Benjamin students, and students from The Prairie School, in Racine, WI and students from a school in Connecticut travelled for a month through South Africa in a four-part expedition. In the fall of 2003, Kijana held the first of its longstanding signature event, Cookout for Kenya, which eventually evolved into Kijanafest. The following year, he was the first Benjamin teacher to ever be awarded a paid sabbatical, to spend most of the year in Africa.  He spent two and a half months in the fall of 2003 in Kenya, getting the organization registered and beginning the first projects as an organization.  During the spring of 2004, he travelled for 10 weeks through West Africa, including Ghana, Burkina Faso, Mali, Senegal, Mauritania, Western Sahara, and Morocco, exploring the region and expanding his first-hand knowledge of the continent.
He returned to the Benjamin School in the fall of 2004 and continued to teach AP US Government and Comparative Government, Intro to Government and African and Asian studies, coach cross-country, lead delegations to Harvard Model Congress, sponsor the environmental club, and organize the Cookout for Kenya. In 2007, he served as a link teacher again for World Challenge Expeditions for an expedition to Tanzania.  Another several Benjamin students, along with a handful of British students combined to explore Tanzania.    In the 2007-08 and 2008-09 school years, he added World History to his teaching repertoire.
During the years 2005-2009, Kijana invested heavily in developing Mwituha Secondary School, which had been defunct for about a decade prior to that). Jim oversaw the construction of multiple classrooms and the science laboratory and enrollment rose from a few dozen inaugural students in 2005 to a few hundred by 2009.   In 2007, Jim organized another visit to America by two Kenyan Kijana team members, Rev. Charles Anabaka and Susan Otuma. The two spoke in classes and visited other schools in the community.  In the summer of 2009, Jim and Bruce led a few Benjamin families and their students to Kenya to see Kijana's work and explore the country.
Jim left the Benjamin School after the 2009 school year to build Kijana and during those first few years after Benjamin, the focus of
Kijana
was further development of Mwituha Secondary School. Jim raised money to construct the first of Kijana's "Bibilio-theatres"- a concept developed by Kijana co-founder, and Vice-President Bruce Huber.   The Bibilo-theatre is a combination library and amphitheater. Kijana's Mwituha biblio-theatre was developed under the careful guidance of Jeremiah Awori, who continues to work with the organization.  Jeremiah Awori is a true renaissance person, teacher, architect, contractor, farmer, father, and animal expert. He has also become a good friend to Jim and visited the United States in the fall of 2018, as a Kijana Global Ambassador, visiting local schools and developing knowledge of the United States' people and culture.
In 2010, Jim welcomed two former Benjamin students to Kenya as volunteers, Cameron Schuster and David Watterson.  Cameron volunteered for two months and developed a soccer tournament for the organization, for local schools, and David organized a year long Global Student Summit over the water issue, as part of his capstone project, in obtaining a Master's degree from the Clinton School in Little Rock, Arkansas.
David and Cameron are two of over 50 Americans that Jim has brought to western Kenya to visit.  Both stayed at the home of Welliminah Kutai, his longtime family friend.  Her husband, who passed away, in 2008 was one of Jim's original dear friends from his teaching days at
Ebusiloli
, as part of
WorldTeach
.  Kutai was a colleague of his at
Ebusiloli
and played a key role in helping him adjust to the local community and environment.
In 2013 and 2014,
Kijana
was named an Extraordinary Charity by
Extraordinary Charities of Palm Beach County.
In 2013, Kijana was one of 50 Charities out of more than 3000 in its budgetary range to be selected for the inaugural edition. In 2014,
Kijana
was one of 75 Charities in the county to receive the distinction.  In 2013, Jim welcomed another Benjamin alum as a volunteer to Kijana in Western Kenya, Samantha Koches.  Samantha, who had experience in both the non-profit and corporate sector, and who was headed to obtain an MBA, spent several weeks at Kijana's base "home" in Bunyore, the home of Welliminah Kutai.  Samantha helped us put together some data on Kijana's accomplishments to use for marketing and development as we moved forward.
In the winter of 2013, Jim was also featured in Macalester College's alumni magazine with a two-page article about his work; https://www.macalester.edu/news/2013/01/school-starter/. Additionally, in the summer of 2013, he received a lifetime achievement award from his high school, St. Mary Central, H.S. in Menasha, WI.
In 2013, Jim began exploring the idea of building and developing a
Kijana
school of its own.  Over the years,
Kijana
had been dedicated to assisting already established institutions, but without a sustainable income stream, outside of donations, sustaining the organization was challenging.  While beginning to examine the various options for an independent
Kijana
School, and after raising more funds to construct the second of Kijana's biblio-theatres, at Lwanda, in Nyzanza Province, Kenya, Jim decided to return to teaching. He took a Social Studies teaching job at Seminole Ridge H.S. in Loxahatchee, Florida.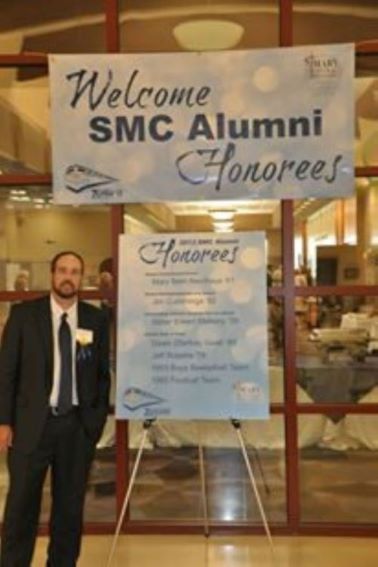 He taught at Seminole Ridge from 2013-2019, with a year off during the 2017-2018 school year, in which he worked on developing plans for the new Kijana school and strategized on fundraising and land details. During that time, he taught AP World History, Honors World History, the Holocaust, African History, African American History, Honors US History, US History, and AICE European History. He also sponsored a Kijana club, at the school, shipped over thousands of books to Kenya, organized the last Kijanafest (2013) and began organizing Kijana 5K Runs (2017,2018, 2019).  During this time, Kijana also constructed, again under the guidance of Jeremiah Awori, the biblio-theatre at Lwanda Secondary School.   Additionally, he had acquired land in Kenya during this time, and had begun planting bamboo as a source of future income and to promote it as a sustainable crop and a resource for creative economic development.
During this time, Jim was also one of fewer than 2000 individuals or groups globally to write and develop a completed entry to the MacArthur Foundation's 100 & Change Challenge Grant.  He wrote it to develop a Global Climate Change Institute to investigate and develop a strategy to capture the Greenland Ice melt and move that water to places that need it.  He also organized two Kijana Global Ambassador trips of Kenyans to visit South Florida, one in the spring of 2018 and one in the fall of 2018.
In the Spring of 2019, Jim decided to leave Seminole Ridge, as he had acquired land for the future Kijana school, and this was his dream for many years.  He embarked on fundraising for the school, and with a generous gift from a longtime Kijana supporter, began constructing the school in May/ June of 2019, with a gate and gatehouse.  In the summer of 2019, he also led a trip through parts of Kenya and to visit the Kijana schools and communities with Ebby Shiroya.  The trip had been developed with longtime colleague in Kenyan efforts, Lexy Sanguinetti, and her company and two board members, Helen and Chet Zientek, and a Macalester College classmate, Diana Hammer, her daughter, and her brother came along.
Kijana broke ground fully in the fall of 2019, after the construction of thousands of concrete bricks, which were constructed under the energetic guidance of our School Developer and Project Manager, Ebby Shiroya.   Jim travelled to Kenya in September and again in November to December to oversee school development, while in the meantime fundraising for the school.  Ebby brought her amazing energy and focus to the project, making sure buildings went up properly and ensuring workers were on-time and diligent. She was at the site early morning and in the evening checking progress and paying workers.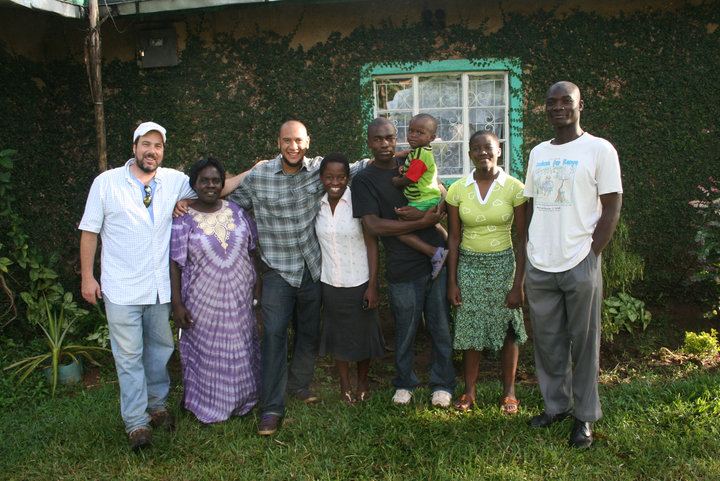 Jim's dream of a Kijana Global Innovation School opened in a preliminary way on January 13th, 2020 with 15 students.  By March 13th, when all schools in Kenya were closed due to the pandemic, the Kijana school had 28 students.  From March to the end of May, construction and work has continued. Jim also initiated a successful soap campaign to assist school communities in western Kenya and in Nairobi with more resources to combat the virus.
Jim continues to seek funds for the Kijana Global Innovation School, primarily through the Kijana Capital Campaign, which is a multi-year campaign to develop the funds build a world-class independent school for the western Kenya region.  The campaign is off to a strong start with over $500,000 raised in the first 12 months since leaving Seminole Ridge. He is also growing bamboo in several locations in western Kenya, has a small home, with Ebby Shiroya, near the school, and plans to soon develop visitor lodging for foreign visitors to come and explore and volunteer.  He is eager for things to normalize so he can get back to Kenya to work on school details. The first Kijana Global Innovation School, will undoubtedly have the best school infrastructure of any school in the region and Jim and his team are busy developing an academic and cultural program of innovation, environmental sustainability, exploration, global values and academic excellence to match. 
He hopes this story continues for a few decades more before others carry it on.