Empowering Youth
Reshaping Communities 
Transforming Lives
Kijana Carroll Hall Library/Media Center Campaign Event
Date: Saturday, September 17, 2022
Time: 4:30 PM – 7:30 PM EDT
Place: Carroll Hall-Brooklyn, NY
Designed by Brooklyn based architects, Harpreet Dhaliwal and Christopher Dameron with collaborative input by western Kenyan architect, Jeremiah Awori and others, the innovative design will provide for advanced global collaboration and multi-directional learning in a creative and sustainable space. It will be an inspiration for multitudes long into the future.

Join Kijana team members and designers of the future pathbreaking library/media center and amphitheater at the Kijana Global Innovation School at Mulusi Village, Sabatia-Butere, Kenya for an evening fundraiser to formally launch the campaign to construct the amazing future structure.
Ticket includes wine, beer and light appetizers. A presentation by the architects and Kijana leaders will take place at 5:30. Enjoy an evening out in Bushwick's vibrant restaurant scene afterward. Partner in building a forward-thinking library and media center of the future to change student lives and create a more sustainable future for all.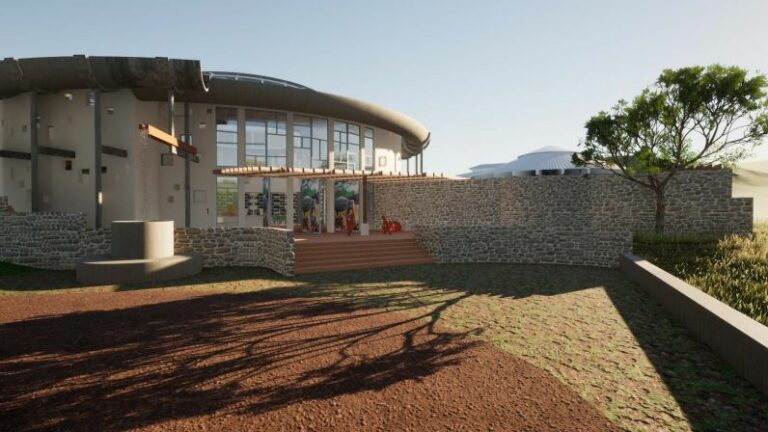 Kijana Educational Empowerment Initiative, a non-profit organization, promotes and cultivates youth empowerment through educational development, cross-cultural dialogue, and sustainable and environmentally friendly economic growth, among under-served Kenyan school communities and American school communities.
Kijana Educational Empowerment Initiative
(Kijana) evolved out of a collaborative effort between students and faculty at The Benjamin School in North Palm Beach, FL and members of the 
Ebusiloli
and
Essaba
communities of Western Kenya. Students at The Benjamin School and Jim Cummings, a Social Studies teacher, raised tens of thousands of dollars from 1998-2001, toward creating a unique partnership between American and Kenyan community members. The funds were invested in a variety of infrastructure developments at
Ebusiloli
and
Essaba
and in bringing Mr. Abel Kutai, a Kenyan teacher to Florida to teach as a visiting teacher.
Kijana
was founded in 2002 to expand the efforts inaugurated in the 1998-2001 era. During the 2003-2019 era,
Kijana
invested in over 30 primary and secondary schools in several regions of Kenya and developed a pilot Global Student Summit (2010) in which students in schools in Kenya connected with students at The Benjamin School, to address global water issues. Our flagship school of that era,
Mwituha
, was reborn in 2006, as a result of our investments, and now has over 500 students.
Kijana
President, Jim Cummings, has also orchestrated the visits of over 50 Americans to the
Kijana
beneficiary school communities during this time period. 2020 began a new era in which we opened our first
Kijana Global Innovation School,
our own independent school, in Sabatia Butere, Kakamega County, Kenya.
Kijana Global Innovation School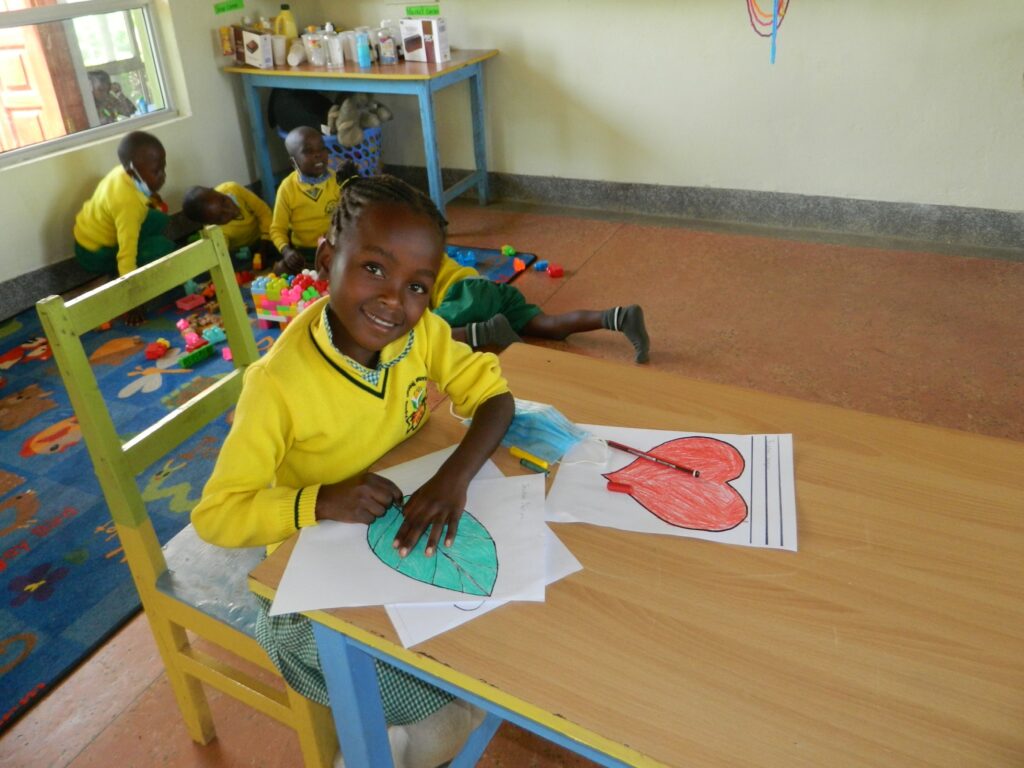 Kijana's newest and most exciting venture is the creation of our own independent school. We are developing a creative, visionary and collaborative curriculum in an architecturally unique setting. Students will be inspired and nurtured to fulfill their potentials and will be prepared to advance to the next stage academically and with confidence, global understanding, and the individual and collaborative skills to compete and contribute in a challenging and engaging world. Kijana's world class institution will also be a venue for international collaboration as educators and students from other countries, including the United States, will be invited to visit, learn and share in a beautiful and culturally interactive environment.
Library and Media Center Development
Our next major physical addition to the school will be a beautiful library, media center, and amphitheater. We are fortunate to have received pro-bono architectural guidance from Harpreet Dhaliwal, Principal at BKSK Architects, and Chris Dameron, Founder of Dameron Architecture, who are jointly leading the design team.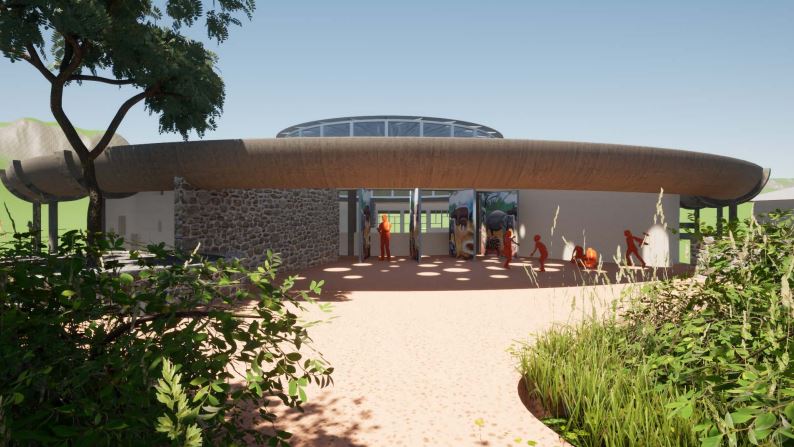 Care, Share and Explore Program
As part of Kijana's deep and long-lasting commitment to environmental sustainability, we are in the process of implementing a unique experiential environmental education program, entitled "Care, Share and Explore." We are developing a wide-ranging program providing students with the opportunity to explore the outdoors through an experiential education initiative. One of our aims is to have 500,000 tree seedlings ready to be planted by December 15, 2021.
Kijana is going "to battle" to save our planet with our next generation of world change-makers. Keep checking our counter for updates on our progress. Our students will develop values of caring for all of God's creations: inhabitants (plant, animal and human) sharing the earth and caring for each other.
Seedlings Emerging (Estimate)
Number of Seedlings in Sleeves
Kijana Heroes Poster Series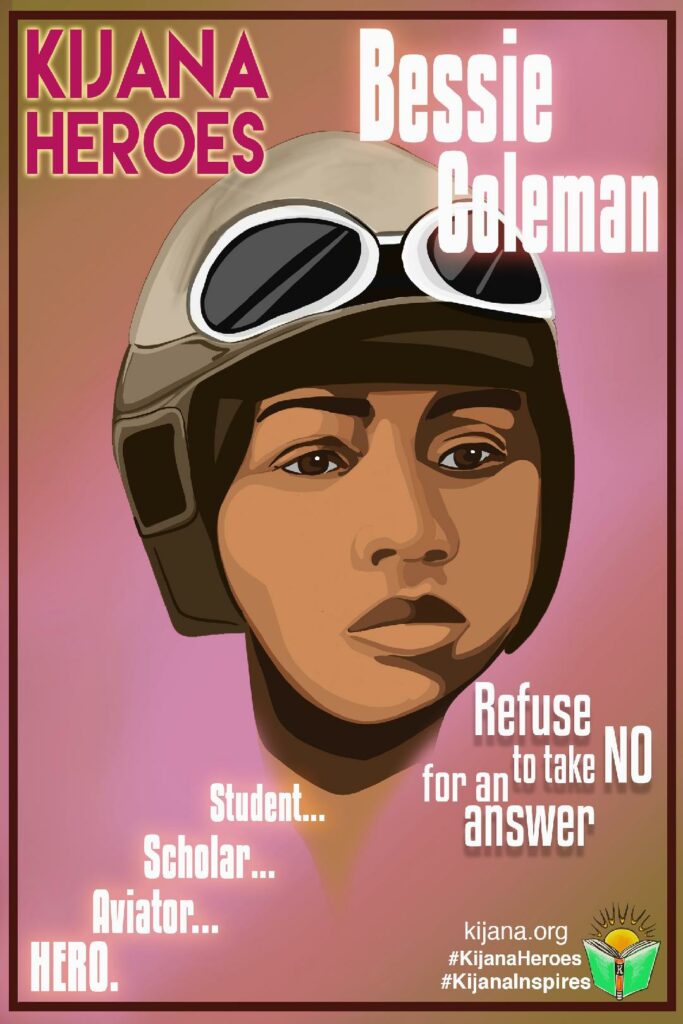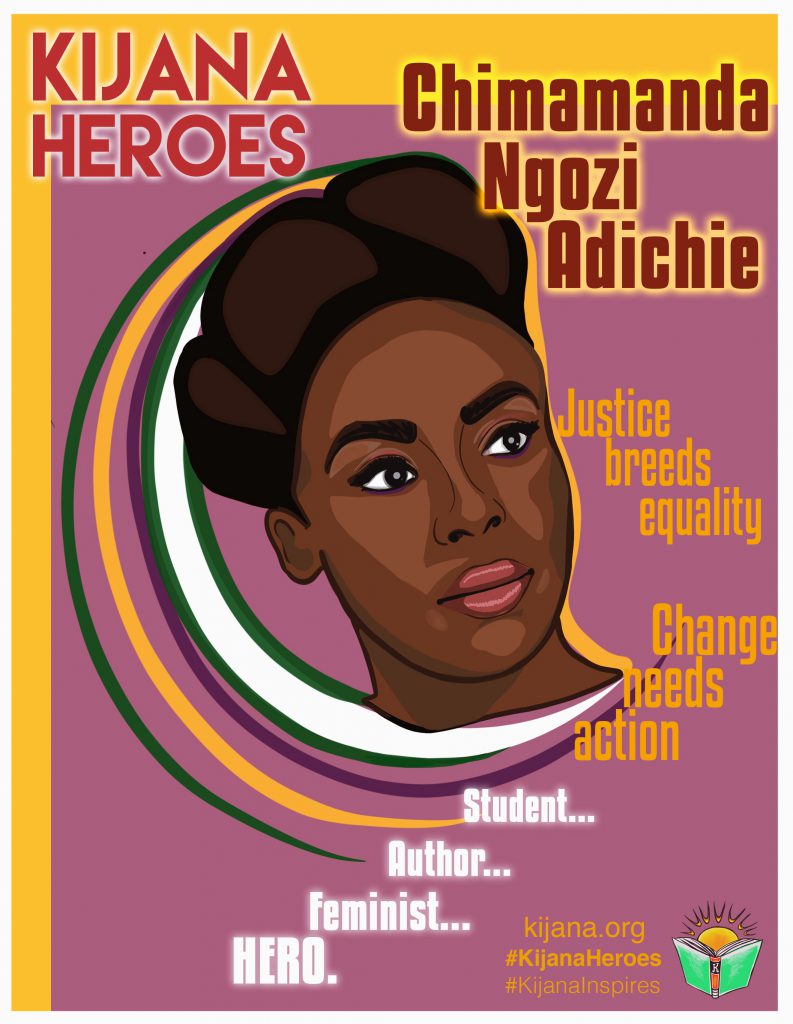 Kijana's values are rooted in an appreciation for history, a strong desire to place ourselves within the 200,000 year human story as well as recognize that we, as humans, share this earth with others in the animal world.
We have a responsibility to care for and share with others, human and non-human. We aim to find allies in history, those who have shared their wisdom and example with us by their change making actions. As we collaborate with our peers, we collaborate with those who have come before us, through seeking an understanding of their ideas and implementing them for societal improvement. 
Claire Salmon, a Palm Beach County resident and Graphic Artist has developed a series of Kijana Heroes posters, some of which we have displayed in the administration building of the school. More posters will be displayed in classrooms. We are exploring additional avenues to share them with other school communities, following up on some school donations in 2019, prior to our Covid-19 challenges.
As we encourage our students to care, share and explore, we model the principles  of caring, sharing and exploring. We venture out to venture in. Kijana has begun distributing them to a few educational institutions in Kenya and the United States and Colombia.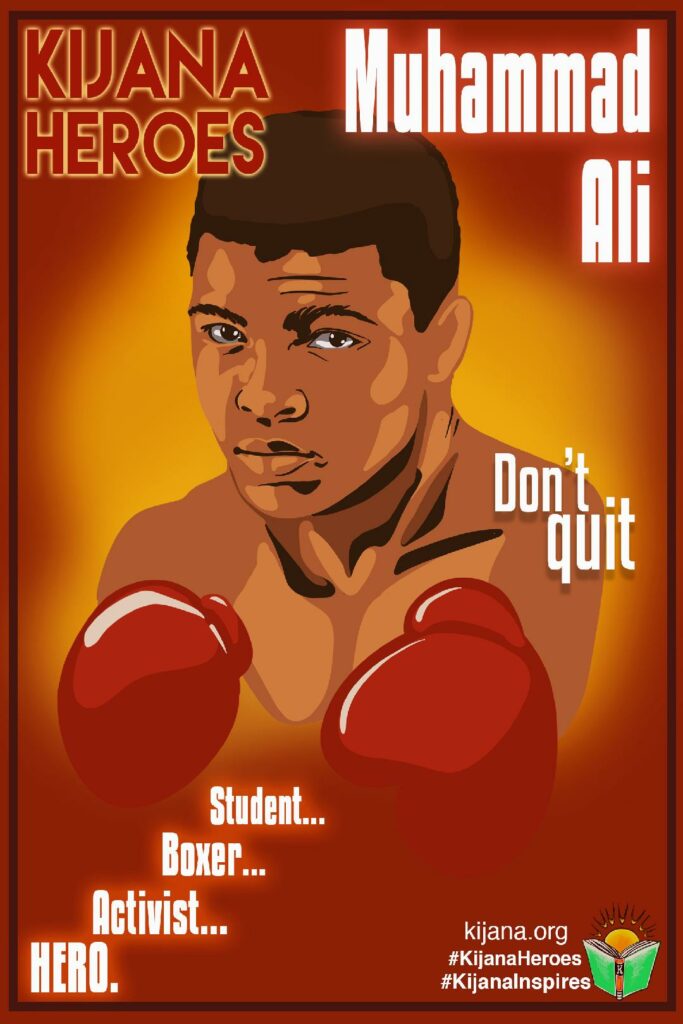 Kijana Heroes Poster Series News
Annually, February commemorates Black History Month. Kijana has welcomed the opportunity to share the Heroes poster series the entire month of February with various communities to pay tribute to this important celebration and fulfill the intent of the aforementioned quote.
Kijana teamed with local Palm Beach County resident and graphic artist, Claire Salmon to create the current collection of 40 Kijana Heroes posters. Each poster portrays inspirational historical and contemporary figures. The collection is intended to serve as an interactive educational tool that will inspire and serve as a catalyst for cross-cultural development. Kijana and Ms. Salmon will continue their important work by expanding the current collection with more noteworthy characters who reflect the spirit of a Kijana Hero.
The posters are on display privately at: Bak Middle School of the Arts, The Benjamin School, Oxbridge Academy, Rosarian Academy, St Vincent Ferrer School, and Leon High School and Holy Comforter Episcopal School in Tallahassee.
The public can view the series at the Cultural Council of Palm Beach County and the Riviera Beach City Hall.
Watch this brief video to understand some of the impact of Kijana's two decades of work in western Kenya, and particularly the impact on the Mwituha Community. The Success Stories Video profiles two students, Helen and Duncan, and their daily life as students. Enjoy a glimpse of life in rural western Kenya and Kijana's significant impact on the wider region.
Sign up to hear the latest and learn about upcoming events.